These Five Currencies Are Most Exposed to Emerging-Market Rout
(Bloomberg) -- Derivative traders are hedging their bets on five emerging markets where they see the greatest probability of declines in the next month.
The currencies of Turkey, Brazil, Mexico, Russia and South Africa are seeing the world's biggest increases in their implied volatility gauges this quarter, amid the worst period for developing-nation currencies since China's shock devaluation in the third quarter of 2015.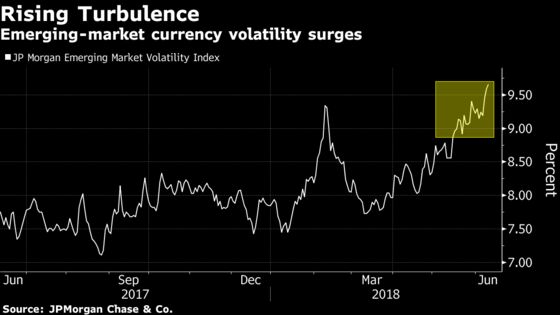 Options traders' expectations for swings in emerging-market currencies have risen to the highest level since March 2017, sending a volatility gauge by JPMorgan Chase & Co. to its worst first half since 2013. Most of the increase has come from currencies in Latin America, Emerging Europe, the Middle East and Africa.
The worst-hit is Turkey's lira, which saw its measure of one-month implied volatility jump 159 percent and trade near the highest level since January 2009
Brazil's volatility gauge climbed 72 percent, near a one-year high
A gauge of swings in Mexican peso are up 68 percent, the steepest since November 2016
Ruble volatility is 49 percent higher this quarter, the highest since Russia's emergency rate hike in 2014
South Africa's rand saw a volatility gain of 42 percent, the biggest quarterly increase since June 2013