Riskiest Subprime Auto Bond Sales Are Headed for a Record Year
(Bloomberg) -- Sales of the riskiest subprime auto bonds are on pace for a record year, according to Barclays Plc.
Companies have sold more than $150 million of B rated subprime auto ABS bonds this year, compared with nothing last year, and an annual average of about $20 million since the financial crisis, Barclays analyst Alin Florea wrote in a recent note. Meanwhile, BB rated debt in the sector has already exceeded $500 million and looks set to pass last year's total of $950 million.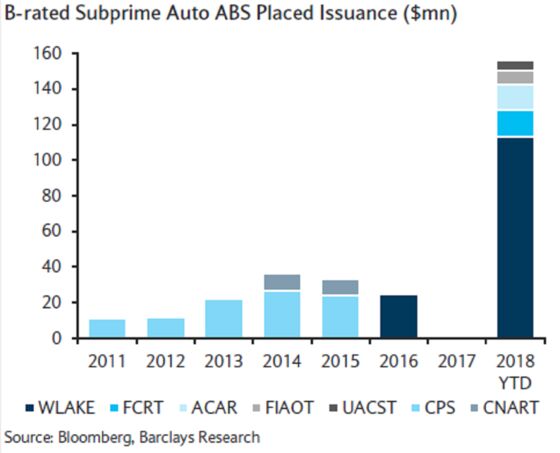 "Despite the volatility earlier in the year, 2018 is shaping up to be a banner year for subprime, auto ABS high yield issuance," Florea wrote. Subprime auto ABS issuers have started to sell more BB- and B rated bonds to meet investor demand for riskier slices of the debt.
The dive deeper into the lower tiers of subprime auto ABS highlights how investors are reaching further down the chain of risk as they search for a better rate of return on their investments.
The bulk of the $150 million of B rated subprime auto ABS bonds sold this year has come from Westlake Financial Services, but four others firms have also issued the lower-rated debt.
For issuers, all of this implies if they bring it, investors will buy it.