Nuclear Tests Through the Years: From WWII to Kim Jong Un
(Bloomberg) -- North Korea is a member of an exclusive club. It has the bomb.
That gives a country leverage as demonstrated by this week's meeting between North Korea's Kim Jong Un and U.S. President Donald Trump in Singapore.
Since the first U.S. atomic test in the desert of New Mexico on July 16, 1945 eight countries have conducted an estimated 2,056 nuclear test explosions, mostly in the late 1950's and early 1960's -- the darkest days of the Cold War, according to data from the Arms Control Association.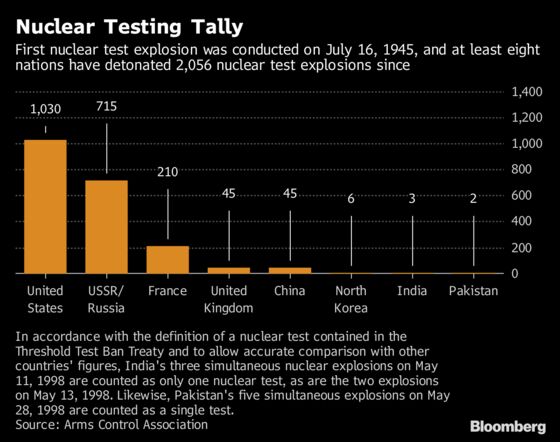 North Korea's last test blast -- its sixth -- occurred last September and the country's official new agency described the weapon as an H-bomb, saying it demonstrated the country's "strength and stamina."