Mexico's Credit Risk Is the Highest Since Trump's Inauguration
(Bloomberg) -- Mexico's credit risk is at the highest level since the days after Donald Trump's inauguration.
Five-year credit-default swaps that hedge against a drop in the value of Mexico's sovereign debt have soared as the July 1 presidential election nears. Leftist Andres Manuel Lopez Obrador holds a commanding lead in the polls, and traders are concerned his victory could upend the economy just as the country is roiled by increasing trade tensions with the U.S.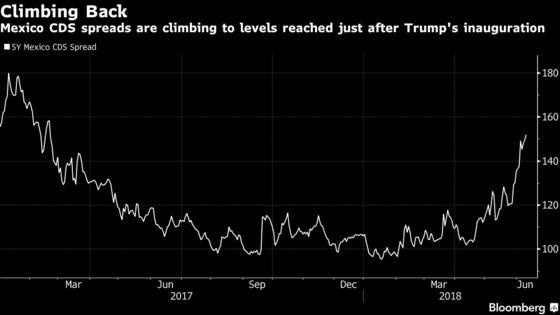 Other Mexican assets are also showing signs of stress as the election approaches. The peso's 2.9 percent drop this month is the second-worst performance among major currencies. Dollar-denominated sovereign bonds, meanwhile, have lost 1.3 percent in June.
The CDS moves are due to "currency, domestic growth, and election concerns," said Michael Roche, a strategist at Seaport Global Holdings in New York. He sees default-swap costs rising up to election day, at which point investors will adjust to the new reality.
Bloomberg's Poll Tracker shows Lopez Obrador with a 26 percentage point lead over second-place Ricardo Anaya.