Investors Prepare for ECB by Underweighting Credit After 6 Years
(Bloomberg) -- Money managers have turned underweight on European credit for the first time since September 2011 as they position for the shifting tide of ECB money.
A Bank of America Corp. survey this month showed investors had fully unwound long positions, as the so-called Draghi Put eases. On Thursday, European Central Bank policy makers look poised to hold the first formal talks on the end of a bond-buying program that has been mopping up corporate debt for two years.
"The relative stimulus for credit drops materially in 2019," Bank of America strategists including Barnaby Martin wrote in a note. "This year, just under 20 percent of ECB buying firepower is being directed towards credit markets."
Next year, under the reinvestments program, that number drops to just 2.5 percent, Bank of America estimates, a post-crisis watershed for credit markets.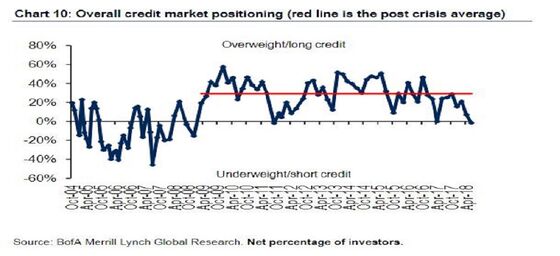 The survey of 76 investors, conducted last week in the wake of the Italy crisis, showed exposures to Tier 1 financial bonds have plunged "massively" from net overweight to the biggest underweight in about two years.
Market expectations are that bond buying -- currently running at 30 billion euros a month -- will be phased out by the end of 2018.