Forecast Cuts Serve as a Cautionary Tale for High-Yield Buyers
(Bloomberg) -- Scrutiny of new borrowers in Europe's high-yield market may increase after two companies issued profit warnings in May, just weeks after raising funds.
Investors in the bonds of Tele Columbus AG and Fives SA were left high and dry as their notes have slumped following the cut in full-year earnings forecasts. The securities of both the companies are trading well below the price at which they were sold in April.
The timing of the deals begs the question of whether it's just buyer beware or should companies themselves exercise more discretion. It's known that borrowers walk a fine line between making adequate disclosures and revealing insider information but investors wonder whether the two companies could have put off their plans until the first quarter results were out of the way.
"It's always disappointing to see issuers prioritize short-term pricing over long-term relationships with investors by not being fully transparent about their outlook," Azhar Hussain, head of global high yield at Royal London Asset Management, said in an interview. "There might be a belief that markets have short memories and this has certainly been true in the past in Europe, although that should be ascribed to the development stage of a market."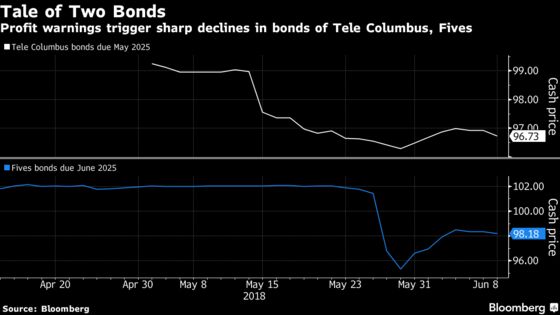 The fallout of these two deals could add to the caution of investors who are already getting choosier.
Citing market conditions, Matterhorn Telecom SA delayed its multi-currency offering last week, taking the number of deals to fall by the way side in recent weeks to four. Greek property firm NBG Pangaea Real Estate Investment Co. , Spanish builder Grupo Aldesa and Ithaca Energy Inc. too postponed sale of bonds. In March, TUI AG put off a deal.
Of the two that cut forecasts, Novafives won't have to worry about facing investor wrath any time soon as the recent deal refinanced its capital stack and extended its average maturity to 2024. The company cut its 2018 guidance by more than 10 percent, according to a JPMorgan note in late May.
A spokesperson for the Paris-based industrial engineering group didn't respond to requests for comment when contacted by Bloomberg last week.
Tele Columbus cut its normalized Ebitda forecast for the full year to 265 million euros ($312 million) to 280 million euros, compared with the earlier forecast of 280 million euros to 290 million euros, according to a May 15 statement. TeleColumbus said that the new findings and developments became known to the management board after closing the bond.
"The management board of Tele Columbus AG and the supervisory board were well aware of the perception possibly created by the short lapsed time between original guidance for fiscal year 2018, bond issuance and partially updated guidance," a spokesman for Tele Columbus wrote in an emailed statement to Bloomberg.
In any case, such instances tend to rankle lenders.
Patrick Lyons, Partner at law firm Dechert LLP in London, said he didn't know whether the issuers and their advisers considered delaying the launch of the bonds. "But as a general matter, it creates problems for issuers to issue immediately ahead of weak results, as this can upset investors and, therefore, make accessing the market more difficult the next time."
Royal London's Hussain concurs. "As markets mature such issuers will get penalized especially when they need to revisit the market."