Elliott Gives Sempra a Surprise Encore
(Bloomberg Opinion) -- Elliott Management's latest foray into the power sector, this time at Sempra Energy, borders on trolling. Exhibit A is how the activist's slide-deck, published Monday morning, uses Sempra's own logo to criticize it: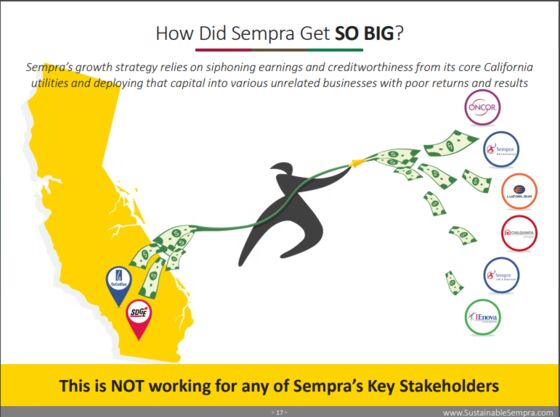 Exhibit B, meanwhile, is that Sempra's recent purchase of Oncor Electric Delivery Co. in Texas actually saved another bet of Elliott's, a portfolio of bonds associated with those assets. Clearly, there's no room for sentimentality in the utilities game.
Either way, even if Elliott's attentions probably haven't provoked mass high-fiving in Sempra's boardroom, they certainly have elsewhere: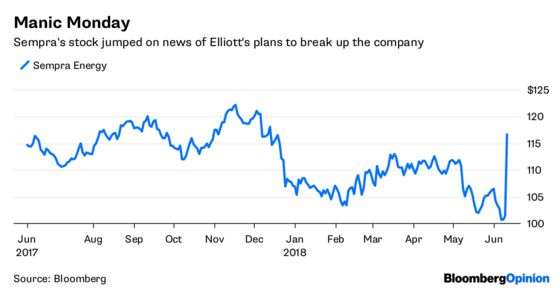 It is very tough to see how Sempra can avoid meeting Elliott at least half way. In part, that's because Elliott has been doing so well in the sector. Shares in NRG Energy Inc. have more than doubled since Elliott, along with turnaround specialist C. John Wilder, announced their interest and forced a radical change of strategy.
And NRG provides something of a template for Sempra. Elliott's plans for NRG placed more emphasis on cost-cutting, although that is also a relatively minor part of Monday's pitch. Both, however, were heavy on a back-to-basics theme. In NRG's case, it was about largely ditching the previous CEO's renewables bets and refocusing the company on its tSepraditional generation and retail power operations (and, naturally, selling a slew of assets and distributing the cash.) With Sempra, Elliott wants the company to sell off its foreign businesses and merchant renewable-energy portfolio. Then, it wants the U.S. assets split into a pure regulated utility and a midstream business centered on the Cameron liquefied natural gas export facility, which is currently under construction.
In a way, the Oncor situation presaged what we're now seeing. An important rationale for this deal was that Sempra's ambitious growth targets were underpinned to a large degree by unregulated ventures such as Cameron LNG. Buying Oncor's regulated business was a way of rebalancing the mix toward safer profit streams and allaying concerns about Sempra's credit rating. But Sempra paid a big price and bent over backwards to accommodate Texas' regulators to clinch the deal. 
This strategy is what Elliott is targeting. Synergies are tough in the utility business at the best of times, given regulators' desire to claw them back. And it is clear there are no appreciable synergies between, say, a utility in southern California, a power grid in Texas, an LNG plant in Louisiana and a majority-owned electricity supplier in Peru (Luz Del Sur SAA).
Indeed, there's the risk of dis-synergy here in the form of a conglomerate discount, with the stock trading at 13.4 times 2020 earnings prior to Monday, versus 17.5 times for NextEra Energy Inc. or 14-14.5 times for similarly mixed-model peers such as CenterPoint Energy Inc. and Dominion Energy Inc. While Sempra would likely counter that this lower multiple reflects the expected onset of profits from Cameron LNG, the rejoinder would be that 2020 is only two years away and investors are still discounting that growth relatively heavily.
There is some opportunism at play, given Sempra has a new CEO not even six weeks into the job and just had this land on his desk. But the company has scored some own-goals; for example, mostly tying executive bonuses to net income, rather than earnings per share, is a governance gift to any activist alleging empire-building.
Above all, though, it comes back to the strategy. Sempra's pitch to investors has been that, while its non-utility activities may raise  risks, they also boosted growth prospects. Yet the company's track record on meeting long-term earnings guidance has been spotty, and a big first-quarter miss didn't help. While Sempra can appeal for investors to trust that it has it right this time, they now have another option.