Don't Sell Early, as Late Cycle Can See Big Gains, JPMorgan Says
(Bloomberg) -- How much money would be left on the table?
"Being late cycle does not mean that the end is near," the money manager's global market strategist Samantha Azzarello wrote in a recent note. "Indeed, this 'late stage' could be long, sticky and drawn out, just like the broader cycle. Calling the end would be a fool's errand, and could result in missed opportunities."
According to Azzarello, those missed gains could be substantial. Investors exiting the stock market two years before a peak have forgone an upside of about 45 percent, she calculated, using returns going back to 1973. Quitting six months before a top would see investors miss out on 14 percent upside on average, she said.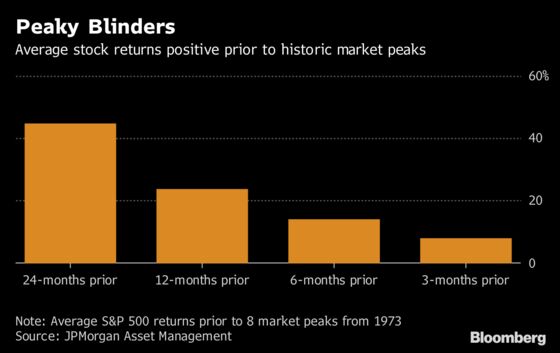 An increase in U.S. bond yields, stronger dollar and higher oil price have led to a flurry of calls for caution among market participants. Last week, investment giant DWS Group said it cut its risk exposure ahead of a potentially volatile summer for markets, and Commerzbank AG urged its clients to get defensive on global equities.
Still, technology shares rallied to new records, and copper, often seen as a barometer for the global economy, is trading close to a four-year high.
For JPMorgan Asset Management, not panicking is key. Take gains where it makes sense but make no big directional calls or risky bets, are among Azzarello's suggestions for investors. And stay invested, she said.
"Exiting the market too early may leave considerable upside on the table," she said. "Late-cycle returns tend to be substantial."