Cheese Gets Caught in Trade Crossfire as U.S.-Mexico Spat Brews
(Bloomberg) -- President Donald Trump's brewing trade spat with Mexico could bring even more problems to the already depressed American dairy industry.
Earlier this month, Mexico slapped duties of 25 percent on some U.S. cheese products. The tariffs came as part of a package of fines in retaliation to Trump's tariffs on Mexican steel and aluminum. The move could lead to lower shipments and weigh on prices for processors, according to a Rabobank report emailed on Monday. U.S. dairy producers count on Mexico to buy more than a quarter of their cheese exports.
"If these tariffs remain in place for over six months, cheese producers will need to work hard to find new markets, and dairy producers may see their milk prices coming in a little lower," Tom Bailey, a dairy analyst at Rabobank, said in the report. "Longer term, potential implications for U.S. dairy exporters may be detrimental."
The friction with Mexico comes just as Trump is once again citing Canada's protectionist dairy policies as being unfair to American farmers, even as the U.S. industry has a trade surplus with its northern neighbor. Meanwhile, falling milk consumption means producers across the U.S. are dealing with excess supply.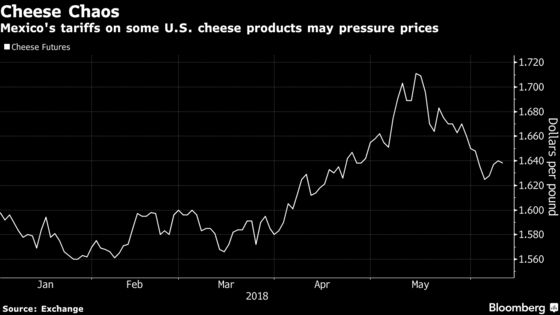 This isn't the first time Mexico has placed tariffs on U.S. cheese, but the effect from temporary duties in 2010 was limited, Rabobank said. Now, Mexico and the European Union have a signed trade agreement, the peso is weaker against the dollar and the relationship between the two North American neighbors is "not as amiable," Bailey said.
"The U.S. may be viewed as a less reliable trade partner going forward," Bailey said. "This is not ideal given the ever-increasing presence of the U.S. as a significant player in the global dairy export market, and the invaluable quality of being a reliable partner."