Happy Anniversary, Amazon-Whole Foods. What's Changed?
(Bloomberg Opinion) -- One year ago this week, Amazon.com Inc. loudly declared its intention to become a grocery industry heavyweight by announcing its agreement to buy Whole Foods Market.
The $13.7 billion deal practically guaranteed sweeping change in a segment of the retail world that hadn't yet felt the sting of e-commerce. By marrying Amazon's digital prowess and appetite for price-cutting with Whole Foods' well-established perishables supply chain and network of stores, it seemed a trip to Whole Foods or a tap of the Amazon app was about to become ground zero of food-shopping innovation — and a top choice for customers.  
Flash forward to today, and if you're looking for clear evidence of how this deal has transformed the industry, you won't find much at Amazon or Whole Foods, though Amazon remains a formidable force in online groceries. Rather, it's in the flurry of counter-actions taken by their spooked rivals. 
No so the old guard of the grocery world. It doesn't have that luxury, which was made plainly obvious when investors sent their shares tumbling after the deal was announced. Industry leaders Walmart Inc. and Kroger Co. seem to have gotten the message and are dramatically increasing the reach of their online grocery offerings. While nothing can completely inoculate them from the threat, they are now better equipped to compete and might even gain early-mover advantage in markets that Amazon and Whole Foods haven't blanketed yet.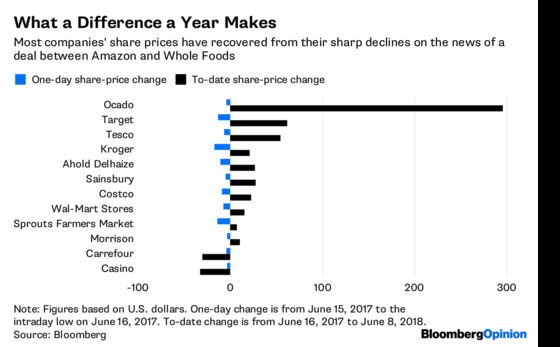 Investors should be heartened by this burst of activity from supermarkets and big-box stores even if, on one level, you could argue it hasn't made much of a difference yet. As mentioned, many grocers saw their market value get whacked last June when this deal was announced. Several of them weren't quick to recover — and some have a lower market capitalization now than before the deal. And none of them are truly outgunning Amazon in the digital realm. More people have bought groceries online from Amazon recently than from any of its competitors, according to a survey conducted in March by Coresight Research.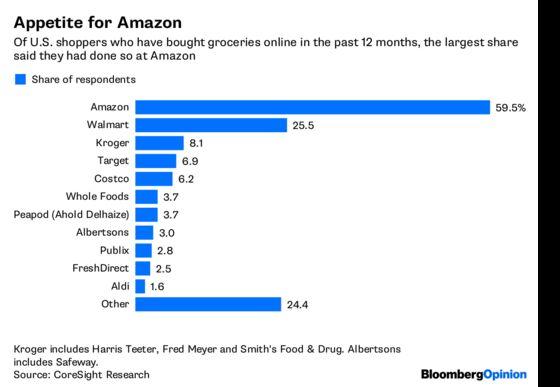 But here's the thing: Online grocery has only just reached its tipping point for widespread adoption. There are going to be millions more dollars up for grabs in this channel in the next several years, and habits aren't yet ingrained for who gets them. Old-school retailers came a long way this year toward positioning themselves to get a piece of the action.
And while those players were hustling to get better at what Amazon does best, Amazon appears to be taking its time learning how to do what the traditional stores do best. Maybe that's why there hasn't been a dramatic change in consumers' willingness to consider shopping at Whole Foods.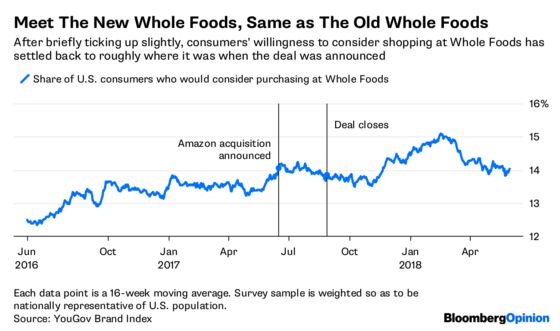 I suspect Jeff Bezos has plenty of big ideas for Whole Foods. But each day that passes with minimal change at the chain is an opportunity for the legacy brick-and-mortar chains to shore up their defenses. And they appear to be taking advantage. 
--Elaine He contribued the "What a Difference a Year Makes" chart