Merkel Allies Call for Unity After Trump's G-7 `Affront'
(Bloomberg) -- German Chancellor Angela Merkel's allies attacked President Donald Trump for reneging on a Group of Seven joint statement, saying the remaining G-7 countries must now stick closer together to steer global policy.
"The step he took after the meeting, withdrawing his acceptance of the communique, is an affront," said Juergen Hardt, a lawmaker and spokesman for foreign policy within Merkel's CDU/CSU caucus. "Without question, we need to remain in talks with the USA. The remaining G-7 states must move even closer together in order to remain advocates for rational global politics."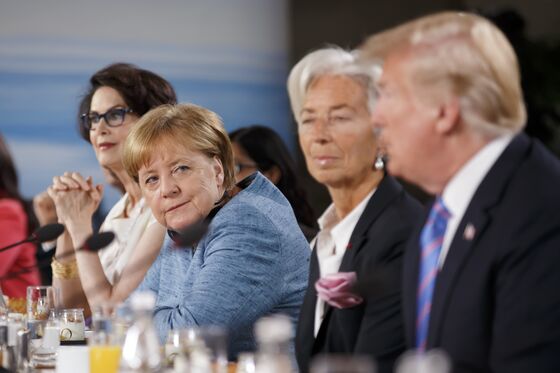 Several hours after Trump left the summit in Canada on Saturday, he revoked his support for a joint statement the U.S. had previously agreed to. The U.K., German and French governments have said they stand by the commitments made at the meeting.
"An extraordinary amount of trust can be destroyed very quickly with just a tweet," German Foreign Minister Heiko Maas tweeted on Sunday. "It's that much more important that Europe stands together and defends its interests even more aggressively."
The office of French President Emmanuel Macron criticized Trump's refusal to back the G-7 declaration in a statement to Agence France-Presse. The statement criticized the "incoherence and inconsistency" of the U.S. action, AFP reported.
"Donald Trump has dealt a further heavy blow to the Western community of states with his behavior after the G-7 summit," said Johann Wadephul, a deputy caucus leader of Merkel's bloc. "Despite the completely incomprehensible reaction of the American president, Germany remains a close partner and ally of the USA. We know that a non-partisan majority in Congress and the Senate and above all in the U.S. public feels just the same."