The World's Biggest Pension Fund Struggles With Sustainability
(Bloomberg Opinion) -- Japan's Government Pension Investment Fund has nearly $1.5 trillion in assets and a legion of external asset managers running its portfolio. The GPIF sees itself as a "super-long-term investor" with the goal of a century or more of sustainable investment and outflows. Managing money for that long is a matter of stewardship, not just picking assets — and in the past few years, the GPIF has included environmental, social and governance factors as part of its stewardship responsibilities.
For the past few years, the fund has asked managers "to consider the materiality" of ESG issues in companies they invest in. The results are intriguing, but they don't bode all that well for the E in ESG. 
The GPIF isn't just big — it's the biggest pension fund in the world, and it's about 40 percent larger than Norway's sovereign wealth fund, the only other pool of sovereign money that exceeds $1 trillion.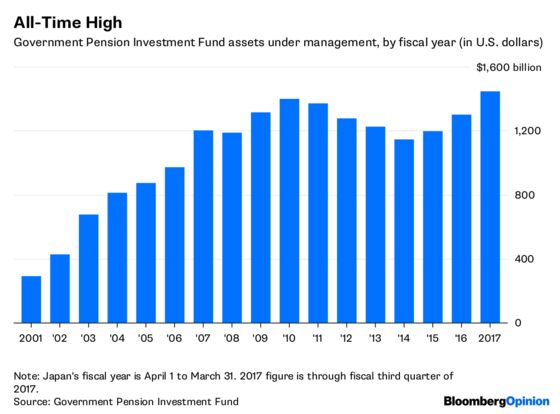 Here's what the fund discovered about asset managers' approach to ESG: Such issues were only deemed material by its passive managers. In its latest report, the GPIF said:
External asset managers entrusted with passive investment that hold investees' stocks as long as they are included in indices tend to recognize long-term issues such as "E" and "S" as material ESG issues while external asset managers entrusted with active investment with primary holding periods of approximately several months to a few years tend to recognize "G" issues as material ESG issues.
The GPIF also said that while external asset managers making domestic equity investments "have taken measures to address ESG issues, in many cases such measures have not been included in actual engagement activities." Governance, meanwhile, is easier to engage with via the exercise of voting rights.
That's what asset managers think of ESG, but what about companies? The GPIF is nothing if not thorough its research, and for two years it has surveyed Nikkei 400 Index companies about their own ESG priorities. Governance, climate change and diversity were the top ESG priorities for Nikkei 400 executives in 2017 and 2018. Look a bit further, though, and this year's priorities have leaned far more toward social and governance issues. The issue of fossil fuel "stranded assets" — facilities that would be rendered useless by efforts to limit climate change — was ranked sixth in 2017; this year, it didn't crack the top 10.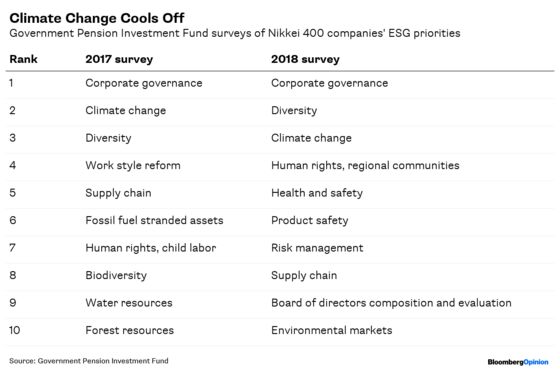 The world's biggest pension fund has made a clear and thoughtful effort to engage its asset managers on the issues that will matter not just today, but 100 years from now, too. The managers it allocates funds to, along with the executives of Japan's biggest companies, are finding it to be a difficult task. That suggests it will take more than a few years of ESG stewardship to create a century's worth of sustainable investment.