Far-Right Jair Bolsonaro Edges Ahead in Brazil Opinion Poll
(Bloomberg) -- Former Army Captain Jair Bolsonaro garnered more support in the wake of a crippling truckers' strike but faces enough opposition to fall short of winning Brazil's top job, a Datafolha opinion survey showed.
The poll released by Folha de S.Paulo newspaper has Bolsonaro with 19 percent of vote intentions, up from 17 percent in an April poll. Former Environment Minister Marina Silva was little changed at between 14 percent and 15 percent in the three scenarios excluding ex-president Luiz Inacio Lula da Silva, who was jailed on corruption charges. Leftwing candidate Ciro Gomes rose to between 10 percent and 11 percent from 9 percent.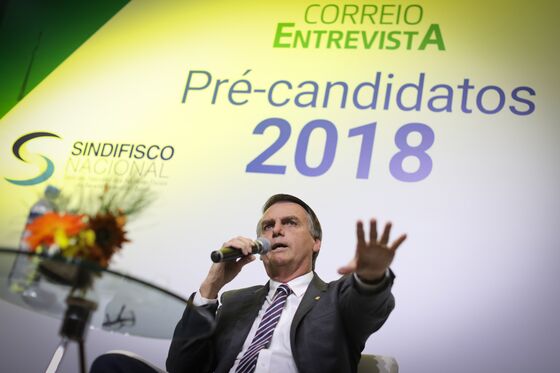 Lula has 30 percent of vote intentions in the one scenario in which he was included, and the former president would beat any of the other candidates in a run-off round.
Marina Silva wins in all the scenarios for a run-off round that exclude Lula, with between 41 percent and 42 percent. In part that is because Bolsonaro has a higher rejection rate than Silva. Nearly 1 in 3 voters say they wouldn't vote for the former Army captain, the poll showed.
Still, the outcome of the October election remains highly uncertain. The share of those who intend to annul their ballot is as high as 40 percent.
In a video shared on Twitter, Bolsonaro raised questions about the accuracy of Datafolha figures, saying that another poll last week showed him in a better position.
Brazilian assets took a beating over the past week, partly fueled by the uncertainty surrounding the outcome of this October's elections. A deteriorating economic scenario, highlighted by recent downward revisions of this year's growth rates, further undermined support for the already unpopular administration of President Michel Temer, as well as his pro-market agenda. The share of Brazilians who find his administration bad or very bad rose to 82 percent, the most of any president since the nation's return to democracy in 1985, Datafolha showed.
Angry Brazilians, wearied by years of recession and corruption, currently show little inclination to vote a pro-market reformist into office. Former Sao Paulo state Governor Geraldo Alckmin, who favors Temer's cost-cutting pension reform, remained little changed at 7 percent, according to Datafolha. Former Finance Minister Henrique Meirelles appears with 1 percent support.
The poll was conducted on June 6-7 with 2,828 interviewees in 174 cities with a margin of error of plus or minus two percent.