Egypt Consumer Prices Rise at Slowest Pace in Over 2 Years
(Bloomberg) -- The annual inflation rate in urban parts of Egypt in May rose at its slowest pace in more than two years, giving the central bank some breathing room ahead of fuel subsidy cuts expected within weeks.
Consumer prices were 11.4 percent higher, according to the state-run statistics agency, CAPMAS. Prices rose 0.2 percent month-on-month, compared with 1.5 percent in April, as food and beverage costs, the largest single component in the price basket, fell 0.3 percent.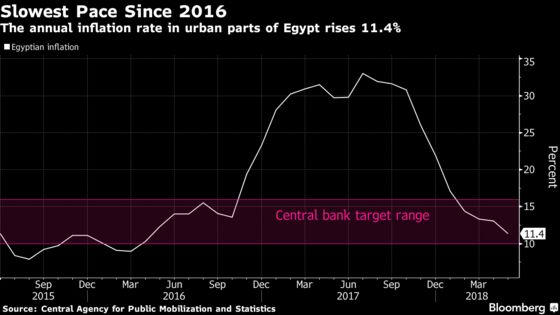 The annual rate is now near the bottom of the central bank's target range of 13 percent (+/-3 percentage points). The bank's monetary policy committee is scheduled to meet toward the end of the month to discuss interest rates. Core inflation, the gauge measured by the central bank, was 11.09 percent in May, slowing from 11.62 percent the previous month to the lowest level since April 2016.
Inflation may have moderated, but the rate could accelerate again if the government goes ahead with another round of fuel subsidy cuts. The reductions are key to cutting costs, but also have the potential to further stoke inflation and further burden the tens of millions of Egyptians struggling with the impact of reforms launched in 2016.
The centerpiece of those measures, the flotation of the pound, re-energized foreign investment and helped to clinch a $12 billion International Monetary Fund loan, but also sent inflation soaring beyond 30 percent in 2017.
A decision to raise the price of metro tickets by as much as 300 percent last month triggered scattered protests. The government also raised prices for piped water by more than 45 percent ahead of the start of the new fiscal year in July.