Dennis Rodman to Cheer `My Friends' Trump, Kim in Singapore
(Bloomberg) -- U.S. President Donald Trump and North Korea leader Kim Jong Un have one sure fan rooting for the success of their historic summit on Tuesday: former basketball star Dennis Rodman.
"I will be flying to Singapore for the historical Summit," Rodman tweeted Friday. "I'll give whatever support is needed to my friends, @realDonaldTrump and Marshall Kim Jong Un."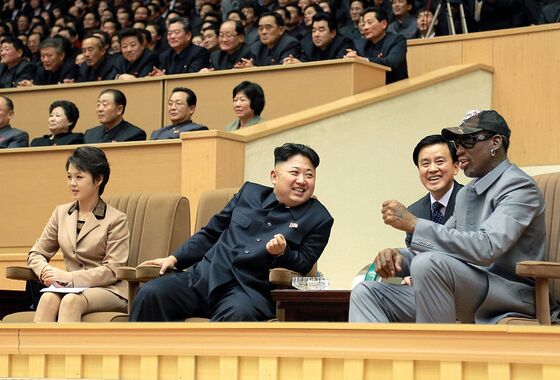 Rodman has traveled to North Korea repeatedly and likely has met the reclusive dictator more than any other American. His spokesman, Christopher Volo, said in March that Kim asked Rodman about Trump before the businessman announced his candidacy for the White House and "he had a lot of respect for the future president at the time."
"To all Americans and the rest of the world I'm honored to call @POTUS a friend," Rodman tweeted Friday, saying digital currency PotCoin and Prince Marketing are paying for the trip. "He's one of the best negotiators of all time and I'm looking forward to him adding to his historic success at the Singapore Summit."
Rodman competed on Trump's "Celebrity Apprentice" in 2013 and was fired in the sixth episode in part for misspelling the name of Trump's wife, Melania, in an advertisement.
Rodman told Business Insider in 2014 that Trump had asked to accompany him on a trip to North Korea. Trump later denied it on Twitter.
"Crazy Dennis Rodman is saying I wanted to go to North Korea with him. Never discussed, no interest, last place on Earth I want to go to," Trump said in a May 2014 tweet.