PG&E Equipment Tied to Some of Deadliest Wine Country Fires
(Bloomberg) -- California investigators have determined that equipment owned by PG&E Corp. caused some of the most devastating wildfires that tore through Northern California in October. Shares slid in after-markets trading.
PG&E equipment ignited some of the largest and deadliest of the so-called Wine Country blazes, including the Redwood fire that killed nine; Atlas Fire that burned 51,624 acres and claimed the lives of six; and Nuns fire that killed at least two, the California Department of Forestry and Fire Protection said in a statement. The agency said there's evidence of alleged violations of state law by PG&E in connection with eight of the 12 fires that its equipment sparked and referred its findings to county prosecutors.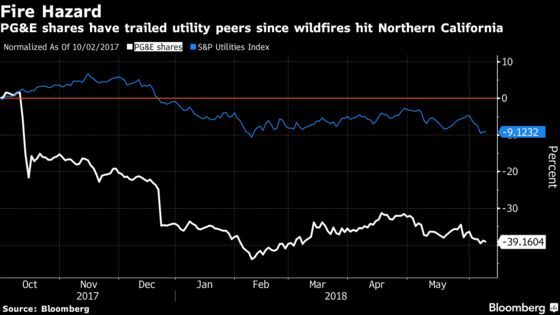 The October fires destroyed large swaths of California wine country, including thousands of homes, and killed 44 people, while blazes in December hit areas near Los Angeles. Statewide insurance claims topped $12 billion as of March, according to the California Department of Insurance. Under California law, utilities including PG&E and Edison International may be held liable for costs if their equipment is found to have caused a fire, even if they followed safety rules.
"It is somewhat troubling that eight of the twelve fires associated with PG&E's equipment were found to have violated state law," said Paul Patterson, a utilities analyst for Glenrock Associates. "The real issue that it comes down to is whether or not the company acted imprudently or negligently."
PG&E fell 1.3 percent to $40.90 after the market close. The company said in a statement that it continues to believe "our overall programs met our state's high standards."
Since the blazes broke out, San Francisco-based PG&E has lost almost $14 billion in market value. The utility suspended its dividend and withheld its 2018 profit guidance because of the uncertainty about how much it might have to pay for damages.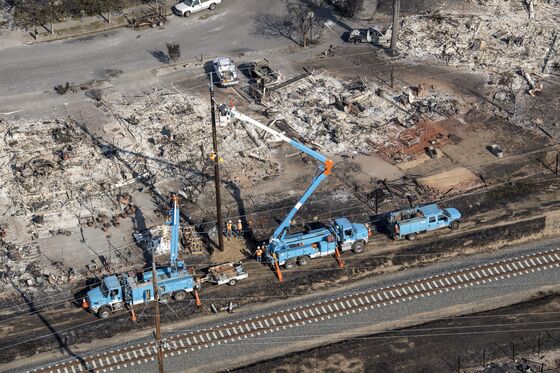 In a separate report issued late last month, state officials determined that PG&E's power lines sparked four smaller fires in the Sierra Nevada foothills after coming into contact with trees or branches. PG&E was found to have violated state laws in three of those fires, too, according to investigators.
While the state reports can't be used as evidence in court, the details in them may still provide fodder for lawyers to use in their cases against the company, said Steve Campora, a lawyer representing fire victims suing PG&E. Attorneys will interview witnesses identified in the reports, fire investigators and expert witnesses about the discovered facts, he said.
"It just gives us a roadmap, and then we use that in conjunction with the evidence we've gathered to prove our case," Campora said.
PG&E Chief Executive Officer Geisha Williams has called the California law that holds utilities liable for wildfire costs "deeply flawed." Along with California's other investor-owned utilities, the company is lobbying the state's lawmakers and regulators to change the law, which is based on a legal principle known as "inverse condemnation."
California Governor Jerry Brown said in March that he would work with state leaders to develop policies this year to update wildfire liability rules and regulations for utilities. Brown has said the state is at higher risk for more severe and frequent fires due to climate change.
In a Friday interview, California state Senator Jerry Hill challenged the idea that climate change was to blame for the Wine Country fires, saying "climate change and the new normal don't ignite fires."
Lawmakers are said to be considering a plan for a compensation fund -- possibly backed by the state and the power companies -- that would help utilities shoulder billions of dollars of potential liabilities while offering relief to victims. Details, including the size, are still being worked out and the proposal -- one of a number of options being considered -- may not come together, according to people familiar with the discussions who asked not to be identified because they aren't public.
California state Senator Bill Dodd, a Democrat from Napa, said in a statement Friday that the alleged violations referenced in the report are "disappointing and deeply concerning." He said he's calling on PG&E and other utilities to "step up" and maintain their power lines.
Below is a list of the fires that the latest report found PG&E equipment to have caused:
The Redwood Fire in Mendocino County that began Oct. 8 and burned 36,523 acres, destroying 543 structures. There were nine civilian fatalities.
The Sulphur Fire in Lake County that began Oct. 8 and burned 2,207 acres, destroying 162 structures.
The Cherokee Fire in Butte County that began Oct. 8 and burned a total of 8,417 acres, destroying 6 structures.
The 37 Fire in Sonoma County that began Oct. 9 and burned a total of 1,660 acres, destroying 3 structures.
The Blue Fire in Humboldt County that began Oct. 8 and burned a total of 20 acres.
The Norrbom, Adobe, Partrick, Pythian and Nuns fires -- part of a series of fires starting Oct. 8 that merged in Sonoma and Napa counties -- that burned a combined 56,556 acres, destroying 1,355 structures. There were three civilian fatalities.
The Pocket Fire in Sonoma County that began Oct. 9 and burned a total of 17,357 acres, destroying 6 structures.
The Atlas Fire in Napa County that began Oct. 8 and burned a total of 51,624 acres, destroying 783 structures. There were six civilian fatalities.