Patterson's BT Tenure Ends After Regulator Fight, Stock's Tumble
(Bloomberg) -- Investors in BT Group Plc watched their investments shrink about 60 percent and decided it was enough.
Chief Executive Officer Gavin Patterson, who will leave the company later this year after almost five years in charge, couldn't reverse a share price slide that started about 2 1/2 years ago. Declining earnings, a prolonged dispute with the telecom regulator over broadband rates, network coverage and control, as well as an accounting scandal in Italy kept piling on hurdles, until the executive's time was up.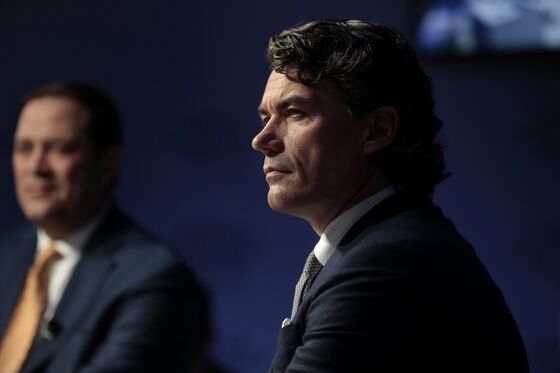 "Patterson has paid the price for his losing battle with Ofcom over Openreach, and failure to recognize the investment tide was moving against BT's previous cash flow targets," Guy Peddy, an analyst at Macquarie, wrote in a note. "BT was over-earning in 2014 and 2015 and the Openreach and Ofcom battle was one that BT could not win. "
At the height of Patterson's tenure, BT stock reached a 15-year peak shortly after his record bet on U.K. Premier League soccer TV rights and the acquisition of British wireless venture EE from Deutsche Telekom AG and Orange SA. It was mostly downhill after that.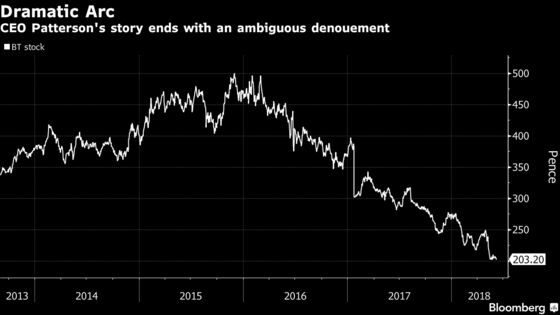 Despite the long-evident pressure on the former telecom monopoly boss, the timing of Friday's announcement left some investors puzzled, coming barely a month after a strategy update that included the board's support for Patterson. The new CEO will have to answer questions about investments in sports content and network rollout, as well as potential acquisitions, and allay concerns about the dividend, according to Stephane Beyazian, an analyst at Raymond James.
Other problems also include high pension costs, more mobile competition from Sky and woes in business-to-business operations, Beyazian wrote in a note. "Some of BT's issues cannot be transformed overnight, and are here to stay for a while."