JPMorgan Says Should've Downgraded Brazil Stocks, But Too Late
(Bloomberg) -- JPMorgan Chase & Co. said it's staying the course on Brazilian stocks, even after acknowledging that it would have liked to have downgraded them a month or so ago -- before the country's currency weakened to its lowest since early 2016 and the Ibovespa benchmark lost 16 percent.
"It is a relative call and not one in which we are seeing that the country is poised for great things," according to a note Friday from strategists led by Emy Shayo. Also, Brazil is structurally better than in the past, they said.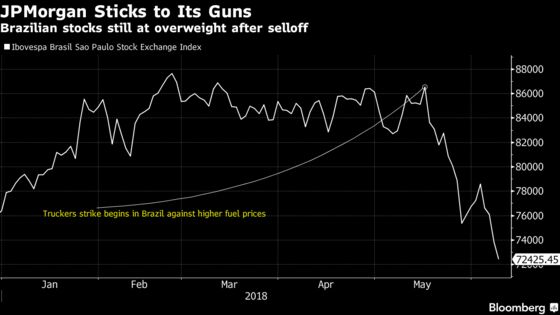 The real is currently trading near levels not seen since the crisis that brought down former president Dilma Rousseff, when inflation was double-digits, interest rates were twice today's level and the current account deficit was 2 percent of GDP.
The JPMorgan strategists said they expect the central bank to hold steady, despite short-term inflationary pressures from a truckers' strike and calls to raise rates. And valuations look relatively cheap, they said.
Risks remain, however, including a slowdown in earnings growth as GDP forecasts are being cut, and the political scenario, the strategists wrote. The market is in full election mode and will remain volatile, reacting to each poll that comes out before the October vote.