Japan's Economy Set to Rebound From Contraction on Global Demand
(Bloomberg) -- Japan's economy has moved past a rough stretch that ended a two-year run of growth, with forecasts pointing to renewed expansion as global demand regains traction.
Gross domestic product shrank 0.6 percent on an annualized basis in the first quarter, according to revised data released on Friday, as a weaker reading of private consumption offset a stronger one for capital investment. That missed the median forecast of economists.
The downturn, partly caused by soft global demand, has probably passed, said Tomo Kinoshita, chief market economist for Nomura Securities. "Looking forward, we are more optimistic about the U.S. and EU, and that should help Japan's exports regain momentum, and that should drive the overall economy," Kinoshita told Bloomberg Television.
Private consumption remains soft -- and an obstacle to the Bank of Japan's goal of generating 2 percent inflation. It fell 0.1 percent during the first quarter, the revised data showed on Friday, but that was the result of an upward revision to the fourth-quarter figure to growth of 0.3 percent.
Export growth, capital investment and the tightest labor market in decades have yet to turn into the kind of robust wage gains and consumer spending that could fuel 2 percent inflation.
"In principle, Japan is an export-driven economy, but domestic demand isn't following through," said Hiroaki Muto, chief economist at Tokai Tokyo Research Center. "The problem is that disposable income isn't rising."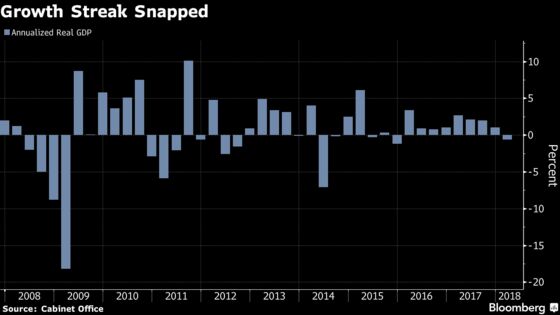 Capital investment has been on the rise for more than a year, but at a slow pace. The first-quarter result was revised higher to an increase of 0.3 percent, up from a preliminary reading of -0.1 percent.
While economic growth is poised to resume, it is expected to be slower than the 1.7 percent achieved in 2017. And the reliance on external demand will leave Japan vulnerable at a time of escalating trade battles.
"I expect exports will continue to be the driving force for Japan's recovery," said Norio Miyagawa, a senior economist at Mizuho Securities Co., who pegged second-quarter growth at above 1 percent on an annualized basis. "That is why anything Trump tries to curb Japan's exports to the U.S. could cloud the outlook for the economic recovery. We have to closely watch how the U.S. and Japan will negotiate."
Measured quarter on quarter, GDP contracted 0.2 percent (estimate -0.1%), compared with a preliminary reading of -0.2 percent.
On a nominal basis, GDP contracted 0.4 percent in the first quarter from the previous one, the same as the preliminary reading.
A separate data release showed Japan's current account surplus was 1.8 trillion yen ($16.4 billion) in April.