Inside Crisis Central With a German Central Banker
(Bloomberg Markets) -- At first glance, Andreas Dombret's office at the brutalist Bundesbank building in Frankfurt epitomizes German banker clichés: black leather furniture, glass tables, chrome-encased lighting. But there are bursts of color amid the industrial aesthetic. Electric purple and red blare from a painting by Markus Prachensky. The suit Dombret is wearing is lined in bright orange. The scene hints at a distinctive feature of his eight years on the board of Germany's central bank, which came to an end in April. The German American, who brought dynamism and a large Rolodex of contacts with him to the institution, is something of an extrovert in a world of introverts and technocrats.
Dombret's time at the Bundesbank has been all about peeling back the layers of complexity inherent in banking. Behind his desk on the 12th floor is an abstract blue drawing by Arnulf Rainer, an Austrian artist (like Prachensky) best known for sketches that obscure other images. "For me, art is very emotional," says Dombret, 58. "I try to see the artists themselves and understand what they're doing and why. For me, understanding is more important than owning."
All this talk of art makes it hard to imagine Dombret slogging through the intricacies of banking regulation. But finance had, in fact, been his life before the Bundesbank. Before he joined the central bank, he'd been vice chairman of Bank of America Corp.'s European operations. That job capped a long career that began at Deutsche Bank AG with stopovers at JPMorgan Chase & Co. and Rothschild & Co. "I wanted to build a bridge between the banking sector and the Bundesbank which goes beyond a technocratic relationship," he says. "I was trying to enhance the understanding in the banking sector of what we do and enhance the understanding in the Bundesbank of what banks do."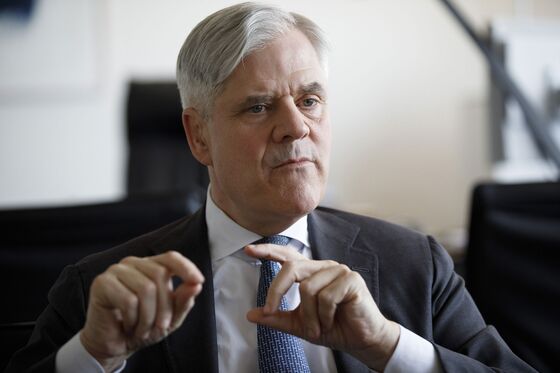 On the central bank board, Dombret earned a reputation for being a team player but also for pushing back if he felt more could be done. He had to call upon both traits when, within days of his starting the job in May 2010, Greece needed its first bailout as the country's credit crunch became a sovereign debt crisis.
The Bundesbank, which held twice-daily crisis meetings when Dombret joined, sought with mixed success to limit the European Central Bank's support for states struggling with their debt. An ECB government bond purchase program launched in 2010 prompted Bundesbank President Axel Weber and ECB chief economist Jürgen Stark, a former Bundesbank vice president, to resign in protest the following year. The Bundesbank argued in 2012 that another, yet-to-be-deployed plan to buy bonds to stem the debt crisis would amount to financing governments by printing money, a practice that caused hyperinflation in the Weimar Republic of the 1920s and left many Germans scarred.
For Dombret, there's been no letup since. The Greek crisis threatened to break up the euro zone, which has been a boon to the German export-oriented economy that the Bundesbank watches over. Deutsche Bank, the country's largest lender, was hit by billions of dollars of fines for misconduct and declining investment banking returns as it lurched from one setback to another; this was a particular headache for Dombret, who was put in charge of banking supervision in 2014.
Dombret spent his final months amid gale warnings from across the Atlantic, with President Trump pushing tariffs that could rock global trade and promising to loosen financial regulations even as Europe tightens them.
As if those challenges were insufficiently robust, there was Brexit to boot.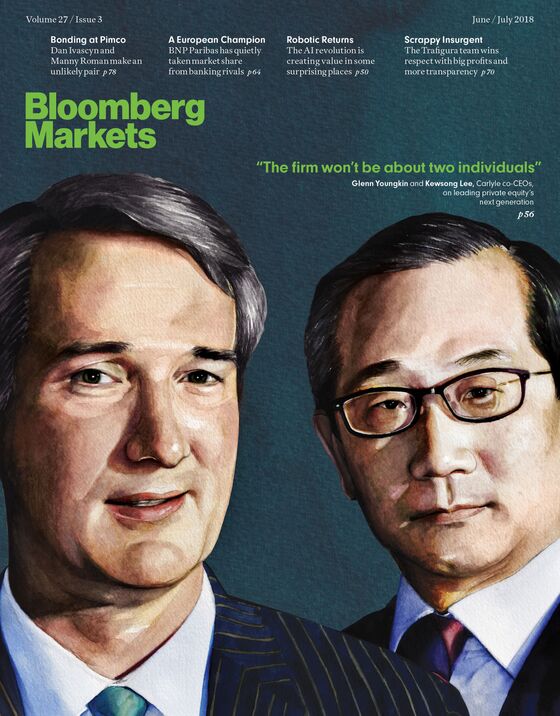 Through the windows of the Bundesbank, Frankfurt's rush to prepare for Britain's departure from the European Union is immediately evident. In a thicket of construction cranes, builders are finishing office towers that will accommodate bankers from Goldman Sachs Group Inc. and Morgan Stanley. "Where the bankers end up is a purely private decision, not mine," Dombret points out. But, he tells us, he's talked to plenty of them right here in his office as they scope out the German regulatory landscape. "Where you are sitting," he says, "many German and international bankers have sat trying to understand how we would rule and how we would govern and supervise those banks. We made no promises. We did not give out any goodies or any freebies at all."
Prior to his departure, Dombret made it clear that he believes Brexit means that, as keen as Germany is to keep the closest possible links with Britain, the Bundesbank will lose a natural ally in regulatory matters. He's done his part to throw a bone or two to the U.K. He floated the idea that swaps clearing could remain in London after Brexit. That put Dombret at odds with France's markets regulator, which pushed a proposal that euro-denominated contracts be cleared inside the bloc.
"He gives some hard messages, particularly on the subject of Brexit," says Andrew Bailey, chief executive officer of the U.K. Financial Conduct Authority. After the Brexit referendum in June 2016, Bailey says of the U.K., "we took the view that we had to be even more engaged on the international stage than we might otherwise be because of the risk of becoming isolationist and we don't want that. Andreas has been a very good interlocutor from that point of view."
Dombret stands for the kind of globalism that populism has sought to stanch—not just in the U.S., the U.K., parts of Europe, and elsewhere, but also in Germany, where the country's two largest political parties have experienced a decline in appeal in favor of less mainstream movements.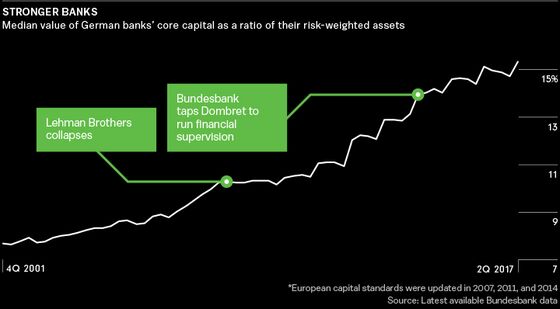 During Dombret's tenure at the Bundesbank, populism loomed large in the background as global regulators, including the U.S. Federal Reserve and the ECB, remained deadlocked over new international rules designed to prevent another financial crisis. Countries led by the U.S. wanted tough limits on the latitude banks have to calculate their own risk, while Europe and its allies opposed that approach, worrying that it would choke off lending. Both sides engaged in brinkmanship on the Basel III standards, with Dombret and other German officials publicly threatening to walk away if the U.S. didn't soften its stance. Ultimately, both sides compromised after almost seven years of fine-tuning the tougher standards on the amount of capital that banks must have on hand to withstand losses.
Because of his global interests and incessant travels, Dombret became known informally as the Bundesbank's foreign minister: He flew the equivalent of 200 times around the globe during his tenure, helping to keep lines of communication open to his peers and capitalizing on the trust he'd built up with them over years. "He could really read the dynamics at financial institutions," says Agustín Carstens, the general manager of the Bank for International Settlements who was governor of Mexico's central bank for eight years until last November. "There was real strength in leveraging that private-sector experience with his role at the central bank. That's a very powerful combination."
Dombret says his energy and his drive to get things done sometimes tipped into impatience. "What I really disliked during my eight years was there are some wrong reflexes out there," he says. "Some bankers regularly criticize each and every piece of regulation which comes out, and many supervisors and regulators defend each and every piece of regulation."
But he could see both sides when he needed to see them, he says. A forceful advocate of his beliefs, Dombret wasn't "afraid of conflict," says Stefan Ingves, governor of Sweden's central bank and chairman of the Basel Committee on Banking Supervision. "But he also realized when the time for dealmaking arrived and was willing to reach a compromise that was in the interest of ­everybody."
As his days at the Bundesbank ticked down, Dombret, who was born in the U.S. to German parents and is a citizen of both countries, couldn't help but wonder when the next financial crisis would come and what the cause would be. What would worry him most? "The cyber area," he says. "That is something which is very untested. Contagion could come very quickly and could also have a very damaging effect, which I don't think we really understand now." Dombret tried to get the Bundesbank to devote more bandwidth to cybervulnerabilities but was rebuffed, and cybersecurity isn't seen as a core responsibility of the central bank.
Effecting change there isn't easy. "When you first join the Bundesbank, the institution shapes you," says Carl-Ludwig Thiele, whose tenure on the central bank's board coincided with Dombret's. "But after a couple of years, you get a chance to shape the institution, and Andreas has done that."
There's plenty of unfinished business, some of it in ­Germany's backyard. Dombret—whose replacement, European Parliament member Burkhard Balz, will join the board in September—has been vocal in calling for Europe to tackle the mountain of loans that went bad after the financial crisis. Germany's domestic banks also continue to be more exposed to the region's record-low interest rates because of their focus on the bread and butter of deposits and loans. The Bundesbank has highlighted this risk, but Dombret says it's not up to supervisors to dictate a bank's strategy.
German banks were happy to hear that. "We were worried when he joined the Bundesbank because of the time he spent at Anglo-Saxon banks," says Alexander Wüerst, CEO of Kreissparkasse Köln, Germany's third-largest savings bank, which serves the region around Cologne. "We were keen for him to listen to small and ­medium-size banks, and he ended up really showing neutrality."
In Dombret's old office, a shelf filled with trophies commemorated his past as a banker. "My tombstones," he says, borrowing a term he picked up during his investment banking days. As for what's next, he says he doesn't know. What he does know is that he doesn't want those "tombstones" to hold him back. For Dombret, the life of an artist such as Rainer is a tale of reinvention and struggle for greatness even after you've passed your peak. "Normally you have one phase as an artist where you're really good," Dombret says. "For Arnulf Rainer, that was pretty much at the beginning of his career. Guess how tough it must be if you are best when you are 30." 
Comfort covers financial regulation in Frankfurt. Callanan is the investing team leader for Bloomberg News in London. Randow covers central banks in Frankfurt. With John Glover