From Wall Street to Williamsburg, It's About Where to Party
(Bloomberg) -- The preview party for Domino Park started with some tough choices: watch the sun dapple on the East River as a train chugged over the Williamsburg Bridge, or hustle over to the Roberta's stand for pizza; play bocce near a row of black gum trees; or queue up for an L train Lemonade.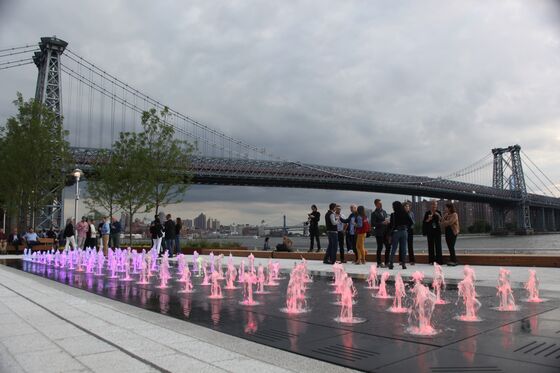 Then a friendly person pointed out the wine cart where rose was being poured from a tap.
"So very Williamsburg," said Sean Hoess, co-founder of Wanderlust, a yoga festival series.
Also very Williamsburg: A fountain spraying a rainbow of colors in front of the grimy bricks and busted windows of the defunct Domino Sugar Refinery. Old syrup tanks popped out of fresh, green grass near a playground with shiny chutes.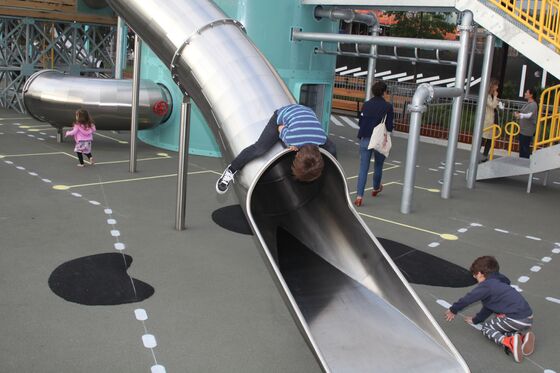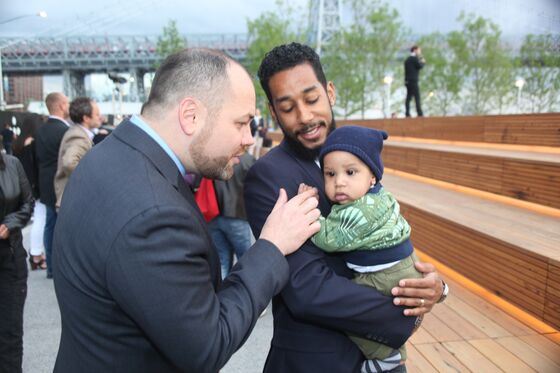 "I remember everything was sinking into the ground," said Brooklyn Museum Director Anne Pasternak, who brought Kara Walker's giant sugar sculptures to the refinery four years ago when she was leading Creative Time.
Two Trees Management spent more than $50 million to create the park, which opens to the public Sunday. It paid $185 million in 2012 for the Domino site and plans to build several towers with cut-outs in the middle, keeping sight lines and light in the neighborhood.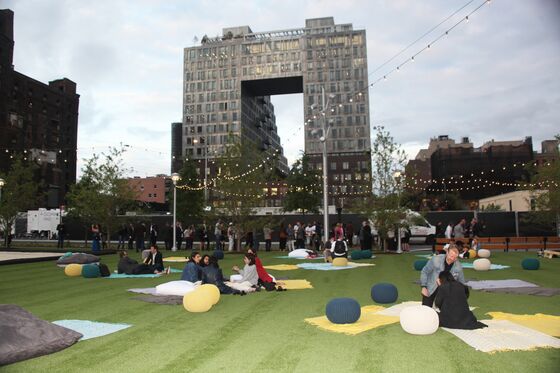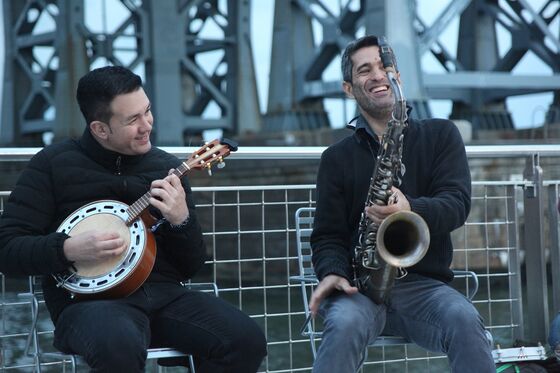 On a stage in front of the refinery from which the park gets its name, Questlove spun before Holy Ghost! performed. The top of a tiered wood platform, a permanent architectural fixture of the park, was the perfect place to dance, either at eye-level with the band or turned around facing the Manhattan skyline.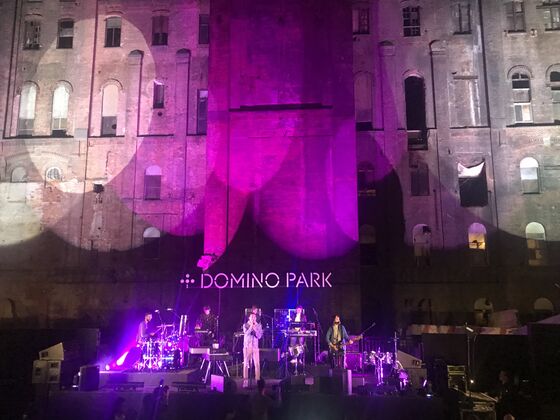 Guests on Wednesday night included property developers Bill Rudin, Larry Silverstein and former New York Governor Eliot Spitzer, who's building three towers south of the park, as well as Ira Glass and Brooklyn Bowl co-founder Charley Ryan.
"A really great party has something unique about it; this has everything unique about it," Ryan said. "This place has never been seen by anybody in this form and it's wondrous."
Jed Walentas, CEO of Two Trees, wearing a Domino Park sweatshirt, downplayed the occasion as Brooklynites do. "Tonight's really about the park, not the party," he said.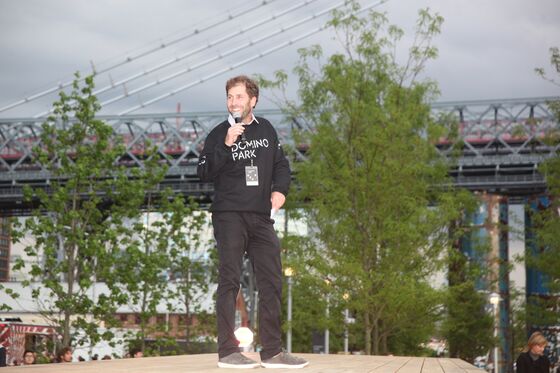 Bona Bona served ice cream cones with toasted marshmallow tops. And guests got to preview the park's Danny Meyer restaurant, Tacocina, where the cheese tacos were especially popular.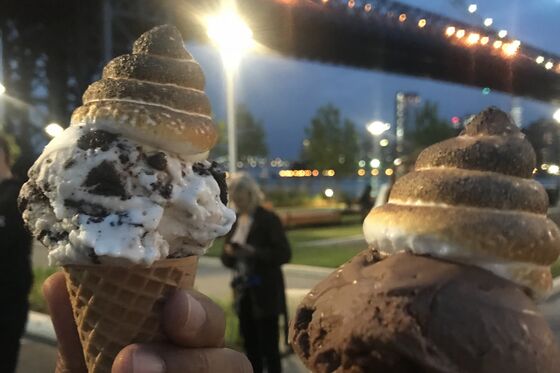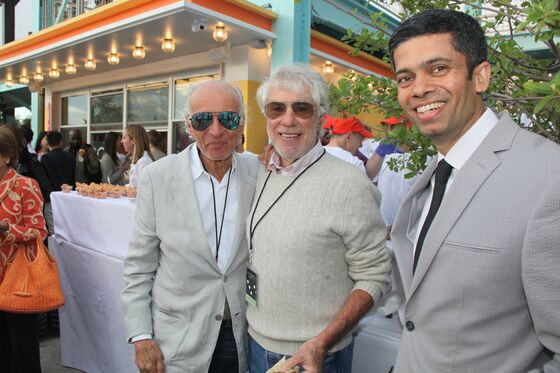 Meyer couldn't be there. He was across the river, worrying over the details of another opening: Union Square Events' first catering hall, the Bay Room, which was hosting a gala for the Municipal Art Society of New York.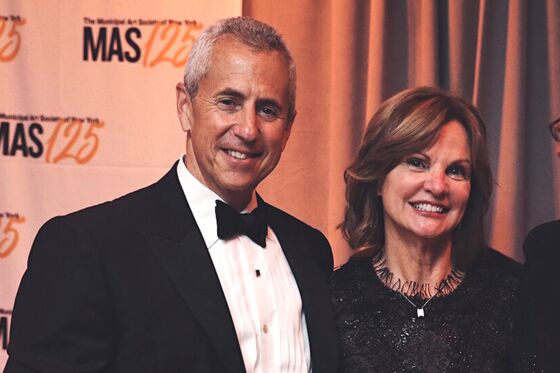 "We're having twins tonight," he said, nodding to the Domino Park party.
The Bay Room is on the 60th floor of 28 Liberty St., the office tower commissioned by David Rockefeller when he ran Chase Manhattan Bank. The building was designed by architect Gordon Bunshaft of Skidmore, Owings & Merrill and opened in 1961. In 2013, JPMorgan Chase & Co. sold it for $725 million to China's Fosun International, which is making some changes.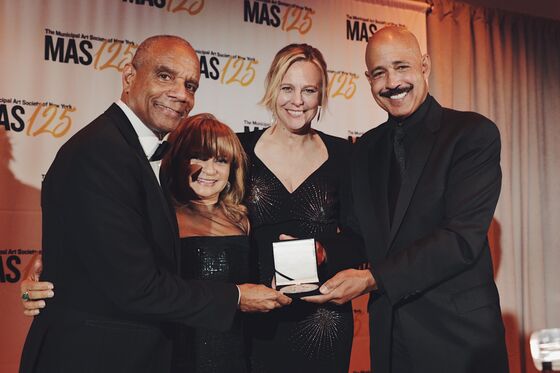 The event honored Meyer and his wife Audrey, as well as Ken and Kathy Chenault, for their commitment to preservation and revitalization. When Ken Chenault was CEO of American Express, he kept its headquarters downtown after the Sept. 11 terrorist attacks. Chenault credited artists, architects, and craftspeople for creating important urban sites.
"The rest of us, the heirs of our historic heritage, have an obligation to these history makers to keep history alive by safeguarding these sites," he said.
Meyer's Union Square Cafe helped turn around Union Square Park. The original Shake Shack made Madison Square Park a destination.
Now Meyer is opening Manhatta on the same floor of 28 Liberty as the Bay Room, facing Brooklyn's waterfront. The restaurant is named after a Walt Whitman poem.
Its first words: "I was asking for something specific and perfect for my city."