Corporations Hurry to Sell Bonds Before Central Banks Shift
(Bloomberg) -- U.S. companies are rushing to sell bonds to try to outrun potential market turmoil that could come when central banks tighten policies.
Corporations have already issued $34 billion of high-grade debt this month, mostly from rate-sensitive financial and utilities firms. That puts companies on pace for an estimated $95 billion of issuance, which would be the most in June since 2014, according to data compiled by Bloomberg. This is happening as spreads in the secondary market reach the widest levels in more than a year.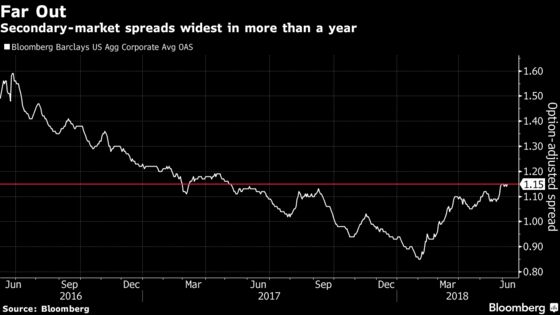 "Early summer may be busier than usual, because some participants are expecting volatility to pick up through the late summer and fall," said Zachary Chavis, a portfolio manager at Sage Advisory Services, which has $12 billion in assets under management. "There are several question marks out there, such as the possibility that global monetary policy may begin its transition from QE into quantitative tightening."
The big push by corporate borrowers highlights the amount of concern that has spread into the market amid a growing list of risks, which includes the European Central Bank tightening monetary policy faster than expected and the Federal Reserve increasing the amount of bonds it rolls off its balance sheet, according to Chavis.
"These issues may spark some volatility, as we've never had to go through a credit cycle like this before," he said.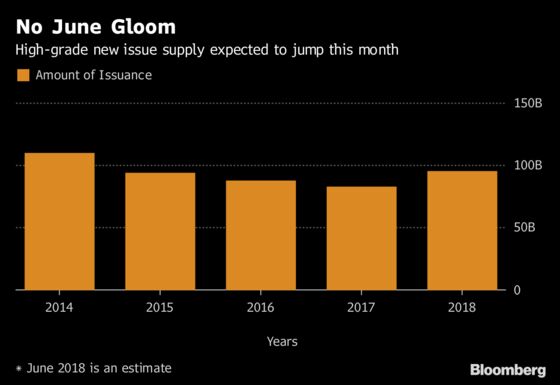 Companies also boosted bond sales this week because of last week's Italian turmoil and next week's Fed meeting.
Borrowers are trying to get to market before issuance becomes more expensive, according to Tim Ng, chief investment officer at New York-based Clearbrook Global Advisors, which advises on $28 billion of assets.
"Not only will the Fed raise interest rates at least two more times this year, but as the Fed continues to unwind its balance sheet, you have a natural buyer coming out of the market," Ng said. "Investors may ask for a premium to take on this increase of issuance that will happen as the deficit continues to increase."
But so far, there's no sign that investors' appetites are shrinking. For example, tech company Trimble Inc.'s sale this week of BBB rated bonds was more than three times oversubscribed.