Canada Construction Hasn't Run This Close to Capacity Since 1990
(Bloomberg) -- Canadian builders are running at full tilt.
The capacity utilization rate in the nation's construction industry reached 92.4 percent in the first quarter of 2018, Statistics Canada said Friday from Ottawa. That's the highest level since 1990, up by 1.6 percentage points from the fourth quarter of last year.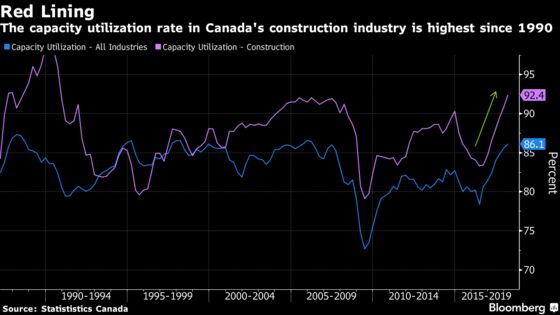 The capacity utilization rate, or the proportion of potential output used up by actual production, is an important indicator for the Bank of Canada -- the greater the share of capacity used, the more likely inflationary pressures will build.
For all industries the rate climbed to 86.1, the highest since the first quarter of 2006, when Canada's central bank was in the midst of a tightening cycle. And in the manufacturing sector it rose for the seventh consecutive quarter to 86.1 percent, the highest since 2000.