World's Worst Bond Market Wants More After 300 Basis Point Hike
(Bloomberg) -- It is going to take more than a 300-basis-point rate hike to impress investors in this year's worst-performing bond market.
By most accounts, Turkey's central bank finally did the right thing by raising interest rates last month after an emerging meeting. But for bond holders, the lira's depreciation is stoking inflation and eating away at real returns. So dire is the impending acceleration in prices that it will offset the central bank's last move, according to the Institute of International Finance, "leaving the real policy rate largely unchanged."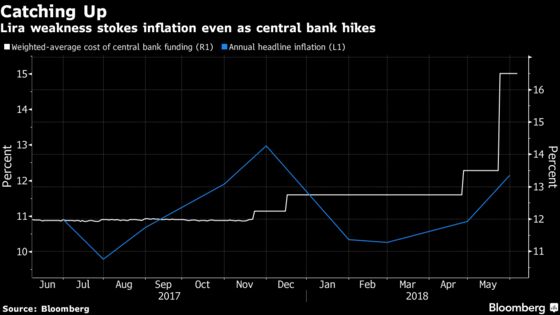 The IIF estimates that every 10 percent of currency depreciation results in a 180-basis-point increase in inflation. The lira has weakened almost 20 percent against a basket of euros and dollars this year, while the central bank's policy rate adjusted for consumer prices has expanded by more around 150 basis points since May's hike, suggesting that its inflation-curbing efforts may not be done.
It's little surprise then, ahead of Thursday's rate-setting decision, that investors are again demanding record premiums to hold onto Turkish debt. The yield on the nation's 10-year bonds has resumed its surge this month and touched 15.41 percent on Wednesday, having gained more than 3.5 percentage points this year, the most across markets tracked by Bloomberg.
Analysts are divided on whether the central bank will hold its one-week repo rate steady or hike on Thursday, with nine of 17 surveyed by Bloomberg expecting no change and the others seeing at least a 50-basis-point increase.
Deutsche Bank AG says a 100-basis-point increase is "fully priced." While yields are now favorable and the lira should remain well supported after last month's hike, the bank is maintaining a short-duration call in local-currency debt. It sees the inflation rate rising about 200 basis points to a peak of more than 14 percent in July.
Further muddying the outlook is uncertainty around elections on June 24, and the possibility that Turkey may hold a repeat ballot if voters choose an opposition parliament that refuses to cooperate with President Recep Tayyip Erdogan. There also a deluge of bond supply coming as the Treasury has increased its planned local-currency bond sales for July to 17.6 billion liras ($3.86 billion), up from a previous 16.3 billion liras.