U.S. World Cup Bid Looked a Done Deal. Then Trump Spoke
(Bloomberg) -- In the lopsided race to host the soccer World Cup, Donald Trump may have just tilted the field.
The American-led bid to stage the planet's most lucrative sports competition in 2026 with Canada and Mexico looked to be a shoo-in, and it still might well be. But the U.S. president's trade dispute with his nearest neighbors has raised the hopes of Morocco. The North African nation has a fraction of the infrastructure, yet the only opposing bid on the table.
The Moroccan camp expects significant backing from the African and European football associations, according to a person familiar with its proposals who declined to be identified as the nation steps up its lobbying to garner more support. Soccer's governing body, FIFA, is due to make a decision on June 13, the day before this year's World Cup kicks off in Russia.
In the leaflets handed out in support of their bid, the message from the U.S., Canada and Mexico is "Unity. Certainty. Opportunity." It won the public endorsement of countries like Saudi Arabia and from the Latin American Football Federation, which has decided it doesn't have time to see a presentation from Morocco in Moscow next week.
In the real world, the governments of the three partners have been anything but united. First there was Trump's border wall, then visa restrictions and now tariffs that Canadian Prime Minister Justin Trudeau slammed as "frankly insulting." Trump's increasing isolation will be on display in Canada at the Group of Seven summit starting today.
"In the past we have had differences, today we have differences and tomorrow we will have differences," Decio de Maria, the Mexican co-chair of the U.S.-led bid said on a brief stop in London this week. "But we are here for football."
Sport and politics have always made a potent combination, and no more so than in the world's most popular game.
FIFA has become a byword for intrigue, scandal and backroom dealing in recent years. There are allegations of bribery and misconduct surrounding Qatar's victory to become the host of the competition in four years' time.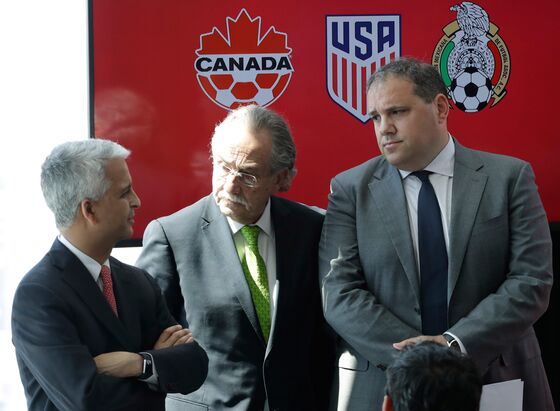 The process of deciding the 2026 host is meant to usher in a new era of transparency. This time, 207 of the national soccer federations around the world, minus the bidders, will vote in a first-ever open ballot. That gives it more potential to throw up surprises, according to Petros Iosifidis, a professor at City University in London who specializes in the political economy of television sports rights.
"The final decision will be down to politics as much as merit," he said. "What Trump has done in recent weeks has been to alienate his partners. How can these three countries go together for a solid bid right now? Whether we want it or not football always relates to politics."
Morocco has a passionate fan base, though has only ever hosted one major tournament before, the 1988 Africa Cup of Nations.
With its nationwide network of top stadiums with an average capacity of 68,000, the U.S. hosted the World Cup in 1994. Mexico hosted it in 1970 and 1986, while Canada put on the FIFA Women's World Cup in 2015.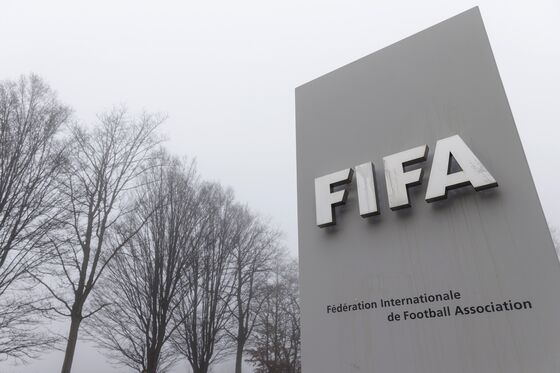 Last Friday, a FIFA-appointed task force concluded that the bids were at "almost opposite ends of the spectrum." Morocco's proposals on stadiums, accommodation and transport were deemed as high risk, according to an evaluation report. 
The U.S.-Canada-Mexico option promises a record $11 billion profit, more than double any other World Cup, at a time when FIFA's coffers have been depleted by fighting recent corruption scandals and by a subsequent loss of sponsorship.
"Much hangs on internal politics that most of us don't understand, such as who does China want to win and how does the African politics blend with the Middle East and Europe," said Stefan Szymanski, professor of sport management at the University of Michigan.
He thinks the U.S.-led bid will still prevail because it's technically better and has key support, though it's not as sure as it was given recent political events.
Carlos Cordeiro, president of the U.S. Federation, said he hoped a letter Trump wrote to FIFA in May guaranteeing no discrimination for fans applying for visas for the tournament would help allay criticism.
"Trump hasn't come up as an issue around the world," he said. "I believe we are stronger as a three nation group. If we were by ourselves, maybe we would not be talking about walls and tariffs. But neighbors always have issues."