High U.S. Home Prices Cut Both Ways, Dilemma for Repeat Buyers
(Bloomberg) -- The Fannie Mae Home Purchase Sentiment Index, which measures views toward owning and renting a house, rose 0.6 point to 92.3 in May to a fresh all-time survey high.
Against a backdrop of elevated property values, more Americans on net said that now is a good time to sell, while the share who said it was a good time to buy was little changed. The net share of those who said selling conditions were good increased to 46 percent in May, up 14 percentage points from a year earlier, according to Fannie Mae data.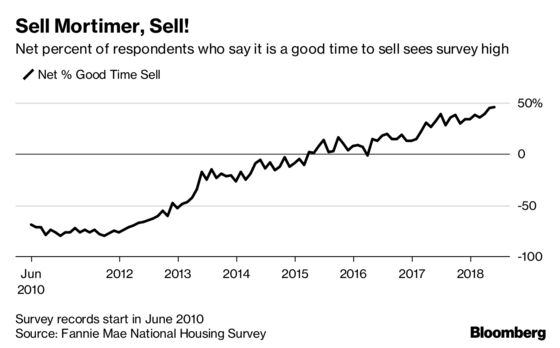 "The perception of high home prices that underlies this optimism cuts both ways, boosting not only the good-time-to-sell sentiment but also the view that it's a bad time to buy, and presenting a potential dilemma for repeat buyers," Doug Duncan, senior vice president and chief economist at Fannie Mae, said in a statement.
In additional survey highlights:
On average, Americans expect rental prices to rise 4.6 percent over the next 12 months, down 1.1 percentage points from a survey high in April
Home prices are expected to rise 3.5 percent over the next 12 months, down 0.4 percentage point
At least half of consumers expressed that the economy is on the right track for the seventh straight month
A record 89 percent of employed respondents are not concerned about losing their job