Japan Wage Growth Falls Back to Trend in April After March Surge
(Bloomberg) -- Japanese wage data released on Wednesday dimmed hopes that the tightest labor market in decades was finally driving pay increases sharply higher.
A 2 percent on-year jump in overall cash earnings in March -- the biggest in years -- had raised expectations of increasingly robust gains to come, but cash earnings in April rose a more moderate 0.8 percent. A labor ministry official said bonus payments had inflated the March figure.
"Rather than calling 0.8 percent a weak result, we should say that the previous month's figures were too strong," said SMBC senior economist Koya Miyamae.
In fact, base pay rose a solid 1.2 percent -- the same as the revised figure for March. And economists expect continued gains ahead.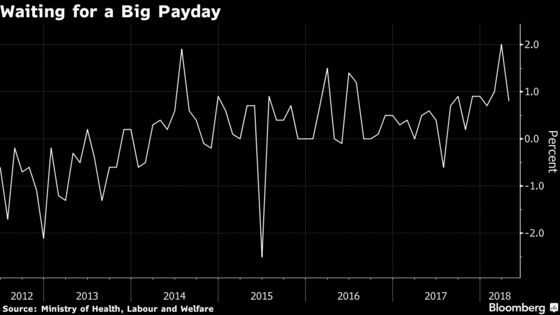 Yet the bottom line is that Japanese consumers are unlikely to start splurging in the near future. In fact, household spending fell for a third-straight month in April, according to data released this week. That's not helpful for a Bank of Japan still struggling to reach 2 percent inflation after five years of extraordinary stimulus.
Marcel Thieliant, senior Japan economist at Capital Economics, estimated that wages need to grow by 2.5 percent for inflation to hit 2 percent on a sustained basis.
"We estimate that the jobless rate would have to fall to 1.5% for wage growth to be this strong, which will take a few more years," he said in a note. "The upshot is that monetary policy tightening remains a long way off."