Home Prices Rise and Birthrates Fall in Study of U.S. Counties
(Bloomberg) -- Correlation doesn't imply causation, as they say. But it sure is interesting.
A sharp decline in birthrates in some hot U.S. housing markets could have something to do with those very price increases, according to a report by Zillow Group Inc.
The real estate data provider plotted a trend line from a correlation it observed between rising home prices and declining birthrates among women 25 to 29 years old. Then it looked for counties where the relationship went beyond the trend.
For every 10 percentage points home prices rose, it found a typical decline of 1.5 percentage points in birthrates beyond the drop it would expect to see if home prices were flat. The U.S. birthrate has been declining for years.
The trend was most pronounced in major California metropolitan areas and in Seattle; Austin, Texas; and Brooklyn, New York, where home prices spiked from 2010 to 2016, Zillow said. For example, in Los Angeles County, home values rose 31 percent, on trend with a 10 percent decline in the birthrate. Instead, Zillow found that the birthrate fell 17 percent.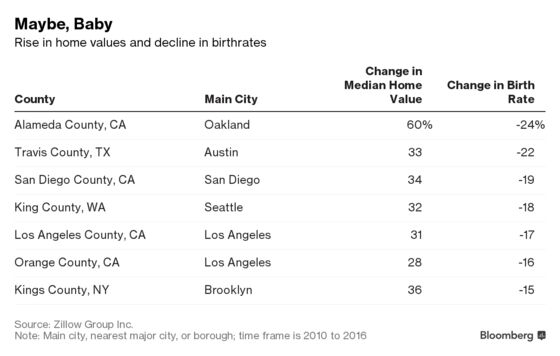 As people weigh the costs of having a kid against what it takes to buy in these markets, some may decide to put off starting a family or to have fewer kids or none at all, Zillow said. People who can afford to live in an expensive area may also have jobs that make it harder to have kids before their 30s.
In a statement accompanying its report, Zillow Senior Economist Aaron Terrazas calmed statisticians everywhere by cautioning against drawing a cause-and-effect conclusion from the data. He added that one important question the research raises "is whether millennials are simply delaying childbirth into their 30s or are actually choosing to have fewer children."