Daily Mail's Dacre, British Media Dean, Ends 26-Year Run
(Bloomberg) -- Paul Dacre, the outspoken editor of the U.K.'s Daily Mail, is stepping down after a 26-year run atop the second-largest daily newspaper in the U.K.
Dacre, 69, will become chairman and editor-in-chief of Associated Newspapers, according to Daily Mail & General Trust Plc, which owns both operations. The change was announced Wednesday as part of a handover of the Daily Mail to a new editor who will be named soon, according to the statement. Dacre will also step down from the parent company's board.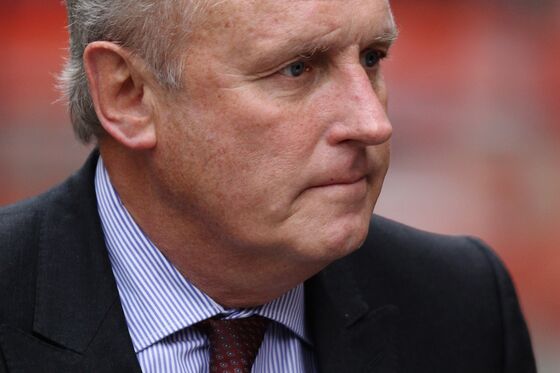 Dacre took over the Daily Mail in 1992. He had turned down an offer to run The Times from media baron Rupert Murdoch, believing he would have more freedom. The Daily Mail is known for its conservative views, and its editor gained a reputation for tough newsroom talk.
"Shouting creates energy, energy creates great headlines," he once told the New Yorker.
Circulation of the Daily Mail peaked in the early 2000s at around 2.5 million, and has since fallen to less than 1.4 million toward the end of last year. Dacre has decided to step back from day to day editorial responsibilities by his 70th birthday in November, he said in a message to staff.
Dacre highlighted a number of successful campaigns from his years at the helm of the Daily Mail, including the investigation into police handling of the racially motivated murder of teenager Stephen Lawrence in 1993 and the 1998 Omagh bombing in Northern Ireland, where telephoned warnings were ignored or misunderstood.
With the help of lieutenant Martin Clarke, Dacre oversaw the Daily Mail's relatively successful move into online publishing: MailOnline is the most-popular British newspaper site by some margin. "The Mail was late to the internet revolution," Dacre said in a 2008 speech to the U.K.'s Society of Editors. "Through our tardiness, we avoided losing the millions that others expended on the web in those early days."
The paper's market share has crept up as all newspapers' circulations have plummeted. Its conservative and often bombastic standpoints -- against immigration, for Brexit -- have made Dacre a controversial figure in British life, but he is seen as highly influential given the paper's many English middle class readers. Prime Minister Theresa May attended his 25-year anniversary celebration banquet in November, and her spokesman James Slack was previously the Mail's political editor.
Daily Mail & General Trust fell 1.7 percent to 671 pence at 9:31 a.m. in London.