CMBS Market Ready for Hurricane Season After Escaping Last Year
(Bloomberg) -- The commercial mortgage-backed securities market is starting the hurricane season on firm footing after weathering a bruising one last year.
Thanks to insurance, most CMBS investors escaped unscathed from the havoc caused by hurricanes Harvey and Irma. Only a small percentage of the $45 billion of securitized commercial-mortgage loans in Houston and Florida defaulted after being struck by the massive storms, according to analysts at Morningstar Credit Ratings and S&P Global Ratings.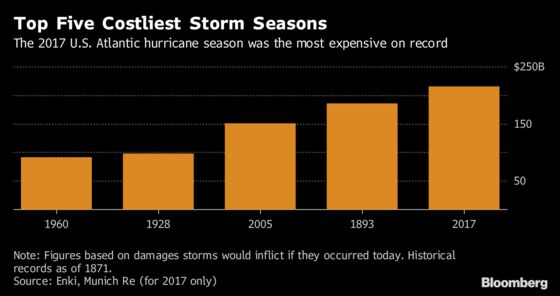 But so far, there hasn't been a wave of defaults, according to Steve Jellinek, vice president at Morningstar Credit Ratings.
"Although there were a number of properties damaged and out of commission, most had flood insurance," Jellinek said by phone. "That's the overarching theme in CMBS. Most have flood insurance so we are seeing a small percentage of those loans that have actually ultimately defaulted."
For example, major renovations were done to Cheeca Lodge & Spa in the Florida Keys and it reopened for business in March, six months after Hurricane Irma.
In fact, CMBS delinquency rates are at a post-crisis low of 2.24 percent as of April in part because underwriters have since tightened standards, according to Jellinek.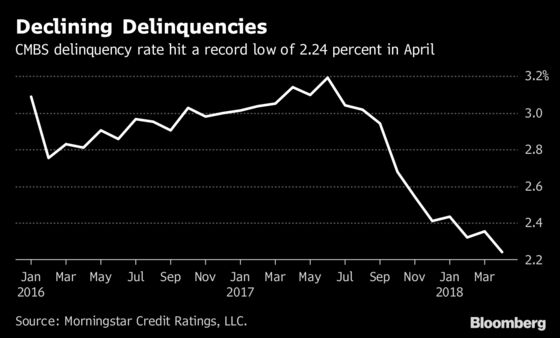 Puerto Rico hasn't been as lucky. A handful of loans in the U.S. territory that have been bundled into securities were transferred to a special debt servicer after Hurricane Maria, Dennis Sim, CMBS director at S&P Global Ratings, said in telephone interview.
Many of Puerto Rico's commercial property loans came due in early 2018, which made it harder for the owners to refinance, he said.