Gene Therapy Deal Helps Double Shares of Beaten-Down Biotech
(Bloomberg) -- Axovant Sciences Ltd. investors are enjoying their first rays of light in months as the shares more than doubled on the company's plan to license a gene therapy from Oxford BioMedica Plc.
Axovant agreed to pay the U.K.-listed company $30 million upfront in cash for rights to develop OXB-102 for Parkinson's disease. Oxford could get an additional $812.5 million if certain development and sales milestones are reached.
Wednesday's stock move suggests regained momentum after failed studies in Alzheimer's disease and dementia erased more than $2 billion from the biotech company's market value. Once trading at $26 per share, Axovant has languished in the one to two dollar range for months. The stock traded as high as $4.64 in New York on Wednesday. Meanwhile in London, Oxford BioMedica jumped 19 percent to 861 pence, its highest level in almost 10 years.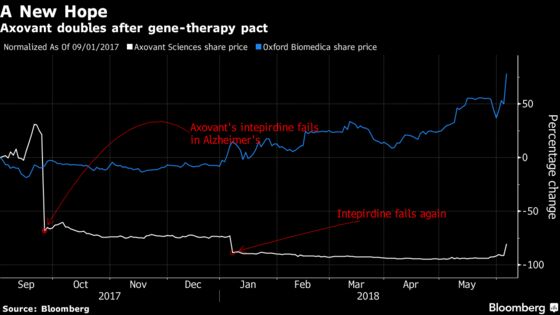 As part of the agreement, Axovant's founder, former hedge-fund manager Vivek Ramaswamy, will increase the controlling stake in Axovant held by Roivant Sciences Ltd with the purchase of another $25 million in the London-based company.