Athenahealth's Bush-Clearing Was Overdue
(Bloomberg Opinion) -- Let the bidding begin for Athenahealth Inc.
The health-care technology company on Wednesday said controversial leader and co-founder Jonathan Bush would step down following allegations of inappropriate behavior toward female employees and physical abuse of his ex-wife. Bush, the nephew of President George H.W. Bush, was perceived to be one of the biggest impediments to a sale of Athenahealth. Activist investor Elliott Management Corp. made a $160-a-share takeover bid for the company last month to get the wheels in motion, and Athenahealth has yet to issue a verdict on that particular proposal.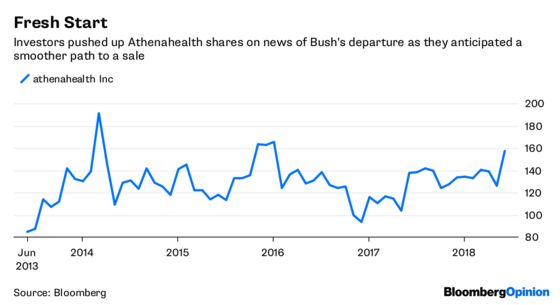 In conjunction with Bush's departure, Athenahealth said it would explore strategic alternatives including a sale or continuing independently under new leadership. Change of some sort was needed. Health care is a difficult business for technological progress — it's riddled with bureaucracy and entrenched incumbents — and Bush spent more than 20 years as an energetic and relentless advocate for Athenahealth and the potential for disruption. But the recent allegations shouldn't come as a shock for a man who fostered and participated in a culture that included shirtless flip-cup and an "afterparty cabin" at a company-owned Maine resort.
Leadership from someone with a different and more-removed perspective would be to the company's benefit (and no, we don't mean former General Electric Co. CEO Jeff Immelt who will now become executive chairman as his previous company faces ongoing turmoil and the prospect of yet another dividend cut). But it would make more sense to give this new executive the freedom to operate away from the public market.
Athenahealth's principal response to recent difficulties and activist pressure has been to cut costs, but it also needs to give more attention to improving product execution and finding new sources of growth as demand wanes for some of its core offerings. Public-market investors don't tend to be the most patient when it comes to a deep rethinking of a company's strategy.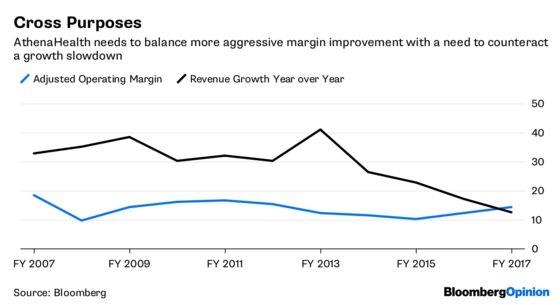 The bigger question is whether it's Elliott that seals the deal or an alternative bidder. Elliott has practically been laying out the welcome mat for competition, calling repeatedly for engagement not just with itself but with other parties that it says are interested in an Athenahealth purchase. This is understandable; as a large shareholder, it's got a card to play on both ends of a takeover.
It seems unlikely that any of the big health insurers would get involved, but other possibilities that have been bandied about include International Business Machines Corp., which acquired medical-imaging systems firm Merge Healthcare Inc. in 2015 and Truven Health Analytics Inc. in 2016. Private equity firms are also an option, although with a market value of more than $6 billion, Athenahealth isn't the smallest bite.
A bidding war is key to pushing the ultimate takeover price materially above the $160 that Elliott offered. That's a fair price, if not a full one. Athenahealth's ability to fight that was undermined by Bush's sale of some shares at $155 a piece on the day Elliott's proposal was made public under the provisions of a previously established trading plan. On the other hand, Bush's reluctance toward a deal and a perceived need to get him on board could have been used as leverage by Athenahealth to push for a higher price. Analysts are split, with some calling for limited upside to $160 and others calling for a meaningful premium.  
At the very least, it seems more likely Athenahealth will take potential buyers' phone calls.