Thank a Bailed-Out Bank for Europe's Newest Tech Champion
(Bloomberg Opinion) -- It's said that banks stopped inventing anything useful after the ATM. Yet bailed-out lender Royal Bank of Scotland Group Plc has given us not just one valuable payments processor, but two. Its Worldpay business was sold to private equity and changed hands again last year for $10 billion. Now Amsterdam-based Adyen BV — whose founders worked for Worldpay — is readying its own $8.3 billion IPO.
This says as much about racy valuations in the payments industry as it does about bankers' smarts. Worldpay fetched almost twice its annual revenue when it was bought by Vantiv. Adyen will be valued at closer to seven times sales when it goes public.
Payments are sexy, financially speaking: Firms like Nets A/S, Bambora AB, and SIX have recently attracted buyers and kept valuations high. Adyen's IPO is set to be the biggest technology IPO in Europe since Spotify Technology SA.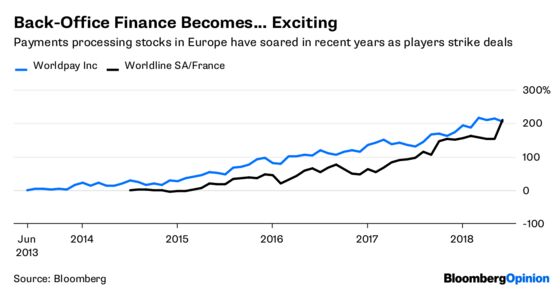 What is all the excitement based on? Growth, for one thing. Global card spending is expected to hit $52.4 trillion in 2026, up from $20.6 trillion in 2016, according to research firm Nilson. The payments industry is fragmented across regional and national markets, having traditionally been linked to banking networks. The drive to gain scale has spurred the hunger for mergers.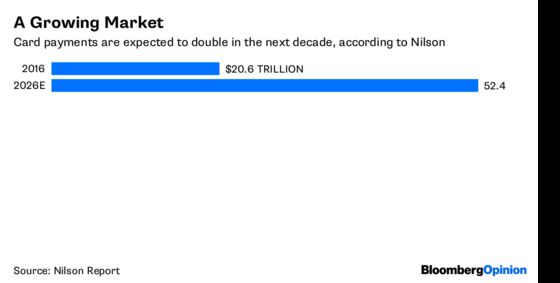 The technology of payments is also in the midst of an upheaval. The old guard tended to be a jumble of offline and online businesses, from point-of-sale terminals to behind-the-scenes processing. The new breed is online first: Adyen's selling point is a unified, efficient platform that works better than those of the incumbents. That means it can handle more transactions for the shops or businesses, generating more fees.
In that sense, there is some justification for Adyen's nose-bleed valuation of 100 times earnings. It's still a fast-growing company: Net revenue doubled between 2015 and 2016, grew 60 percent in 2017, and is expected to increase by at least 40 percent this year. It is also a profitable, high-margin company, with an easy-to-understand business model. Those aren't ten a penny.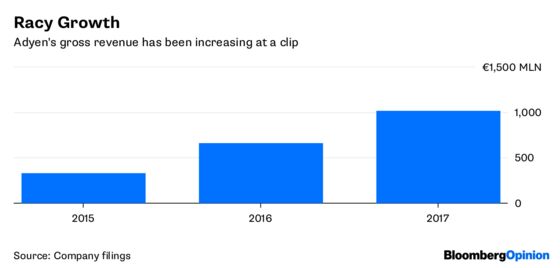 The real question remains competition. In a crowded industry dominated by big incumbents, and where new startups are gaining ground, how many Adyens can the market support? The firm's prospectus refers to a "very intense" competitive environment, and warns that expansion may squeeze margins. On top of the specialists duking it out for market share, Adyen points to Amazon.com Inc. and Alibaba Group Holding Ltd.'s proprietary payment networks.
Still, Adyen has clearly shown it can take market share in this environment. Investors will likely give it some credit, and buyers with deep pockets may view it as a platform worth owning. This remains a good-news story — albeit with a vertigo-inducing price. For RBS, though, the memory will be bittersweet.