Tech Shares' Record Is All About FANGs as Breadth Disappears
(Bloomberg) -- The U.S. tech stock rally is different this time.
When the Nasdaq 100 Index reached all-time highs in January, the gains were fairly broad-based, with roughly 40 percent of its constituents in overbought territory and at 52-week highs. As the tech-heavy gauge hit new records this month, the advance is concentrated in big names -- fewer than 20 percent of its members are overbought and at one-year highs.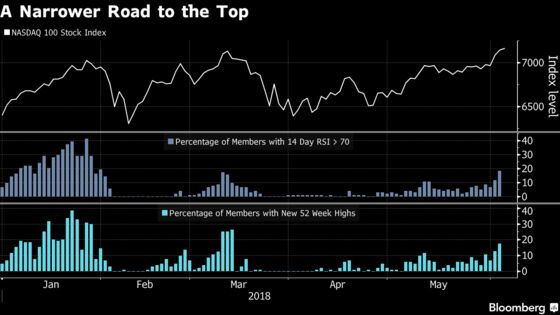 The biggest drivers of the latest rally includes the so-called FANG group of Facebook, Amazon, Netflix and Alphabet (the parent of Google). Three of the quartet ended Monday in overbought territory, as judged by the 14-day Relative Strength Index. Alphabet, the exception, finished at 69.48, just shy of the threshold of 70. The last time each member of FANG had a 14-day RSI above this level was Jan. 25, 2017.
These gains pushed an index that tracks the quartet, along with other heavyweights in the space, to a record relative to the Nasdaq 100.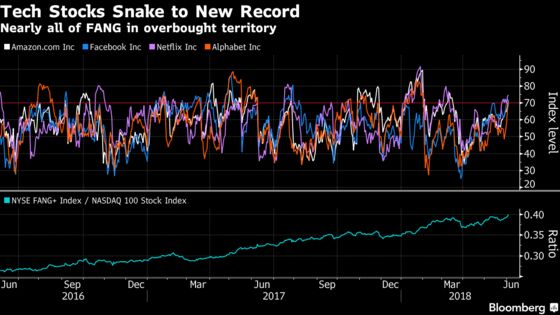 Apple, Microsoft and Intel have also been leaders among tech stocks since their April lows, a run of dominance for the sector that Goldman Sachs thinks can go on for decades.