One Conclusion From Trade Tensions: The Dollar Is a Likely Loser
(Bloomberg) -- For investors struggling to handicap whether U.S. President Donald Trump will stomach a full-blown trade war, some analysts boil the risks down to this: The dollar stands to lose.
Greenback bulls should enjoy the currency's seven-week rally while they can, say Goldman Sachs Group Inc. and Deutsche Bank AG. Should a spiral of retaliatory tariffs ensue, the threat is diminished global growth, quicker U.S. inflation and an uncertain end game that undermines global confidence in American assets, in Deutsche Bank's analysis.
As the Trump administration heads for a showdown this week with some of its closest allies, lessons from U.S. protectionism dating to the 1970s show that the dollar always suffers in the end, because markets will speculate that the nation's officials want a weaker greenback, according to Goldman Sachs.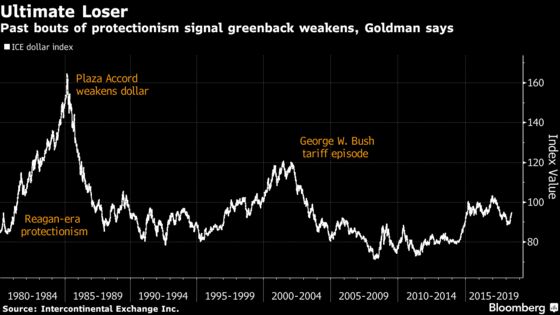 "Past periods of protectionism in U.S. history have actually been associated with subsequent dollar weakness, not dollar strength," said Zach Pandl, co-head of global FX strategy at Goldman Sachs. "We think that something similar can play out now."
The trade friction helps form the backdrop for Goldman Sachs's forecast for a dollar depreciation to $1.25 per euro in 12 months, from about $1.1720 now.
As Trump prepares for a Group-of-Seven summit this week, the European Union and Canada have already threatened retaliatory measures unless he reverses course on new steel and aluminum levies. China has warned it will withdraw commitments it made on trade if Trump carries out a separate threat to impose tariffs.
The current state of affairs has analysts harking back to the past century. Pandl finds plenty of precedents, starting with the Nixon administration, to establish a pattern of U.S. tariffs leading to dollar declines.
For example, he draws a line from President George W. Bush's 2002 move to raise steel tariffs to protect against a surge in imports, to a subsequent slide in the dollar and China's de-pegging of the yuan in 2005. Not to mention the Plaza Accord in 1985 that weakened the dollar and followed a period of protectionism under President Ronald Reagan.
For Torsten Slok at Deutsche Bank, it's all about policy uncertainty and the inflation outlook.
"If you impose tariffs, especially at an extreme degree and have retaliation and an effective uncertainty tax, then it should be weakening the dollar," said Slok, the bank's chief international economist. "Foreigners probably look at the dollar and feel they don't really understand where this trade policy is all going and what is the end game, and lose confidence."
Tariffs will lift inflation by boosting import prices, especially as Trump has focused levies mostly on intermediate goods, which will raise input prices for U.S. companies, Slok said. This will also push up Treasury yields as traders will be on edge about inflation given some measures are already near the Fed's 2 percent target, he said.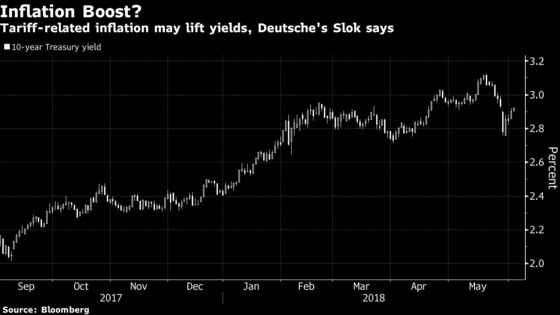 Not everyone is leaning against the dollar in this environment. Paresh Upadhyaya, a portfolio manager at Amundi Pioneer Asset Management, predicts the U.S. will outshine its competitors in a a tariff-induced global slowdown.
That scenario will support the dollar as the Federal Reserve will continue to normalize policy while central banks in Europe and Asia could now be even slower to do so, in his view. And dimming chances for a near-term deal on the North American Free Trade Agreement are weighing on the Canadian and Mexican currencies, he said. The peso and loonie sank Tuesday amid concern a trade pact with the U.S. won't get approval from Congress before 2019.
"The narrative of the risk of a full-blown trade war adds further uncertainty to the global growth outlook," Upadhyaya said. "Emerging-market currencies will likely remain on the defensive versus the U.S. dollar -- which should appreciate versus most of the G-10 currencies" barring the yen and the Swiss franc, which will gain on haven demand.
There's little doubt global policy makers are worried. G-7 finance chiefs this past weekend were united in condemning Trump's metal tariffs, promising to press ahead with retaliatory measures unless the U.S. steps back.
"The recent U.S. actions shatter a complacency that had assumed tariffs were mostly mere negotiation tools, not to be actually used," JPMorgan Chase & Co. strategists wrote in a June 1 note. "How far tit-for-tat retaliations will go in response to the end of U.S. tariff exemptions" adds to risks in the marketplace, they wrote.