Italian Bonds Fall as Conte's Maiden Speech Sets `Radical' Plans
(Bloomberg) -- Italian bonds extended losses as Premier Giuseppe Conte reiterated in his maiden speech to Parliament that the new populist government will pursue a radical policy program.
Benchmark yields snapped four days of declines as Conte vowed to push through populist measures based on a program of fiscal expansion. The euro also weakened ahead of a vote of confidence on Conte's government in the Senate on Tuesday evening.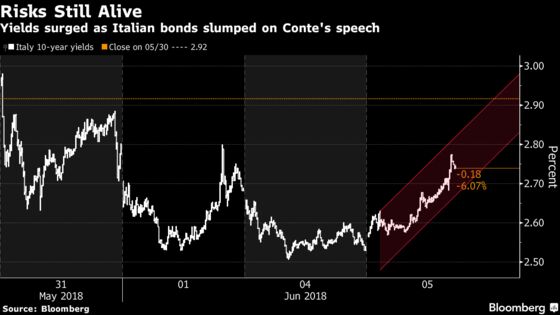 The nation's bonds were roiled earlier this month on concern that the coalition government will seek to march Italy out of the euro, which has been in place in the country since 1999. As markets convulsed last week, the yield premium on domestic assets surged to levels not seen since the euro-area financial crisis.
"Some may have hoped for some watering down after the market moves we saw last week, but Conte talks about revolutionary measures," said Jan von Gerich, chief strategist at Nordea Bank AB. "Maybe the fact that it follows the pledges of the government program quite closely" likely drove Italian bonds lower, he said.
The yield on two-year bonds climbed 25 basis points to 1 percent as of 2:56 p.m. in Rome, while the rate on benchmark 10-year notes rose 20 basis points to 2.74 percent. The extra premium that investors demand to hold Italian 10-year debt over comparable bunds widened to 236 basis points from 212 basis points on Monday.
Speaking in the Senate before the confidence vote, Conte promised "a new wind of change" and vowed to push through populist measures ranging from a "citizen's income" for the poor to tax cuts and curbs on immigration, as he called for a stronger, fairer Europe "to prevent its decline."
Traders interpreted Conte's speech as potentially negative for credit markets, said Christoph Kutt, head of rates strategy at DZ Bank AG.
"Some players were hoping for a more balanced speech, but as he said that the government program would be based on the coalition deal, some took this as more spending is around the corner," said Kutt.