In M&A, Silence Can Be Golden
(Bloomberg Opinion) -- A takeover target won't talk while the aspiring purchaser declines to put forward an offer that can't be refused.
There's still time for the impasse between packaging firm Smurfit Kappa Group Plc and suitor International Paper Co. to break — but investors are bracing for the three-month stand-off to end with no deal. Recriminations will fly, but Smurfit's resistance is defensible.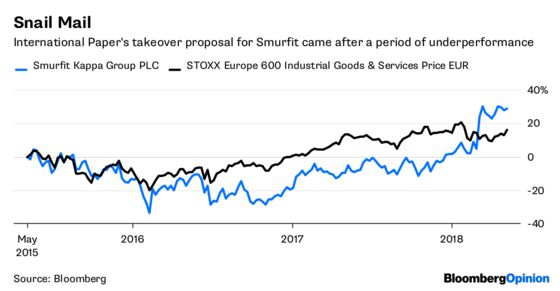 In late March, International Paper outlined a potential cash-and-stock offer worth 8.8 billion euros ($10 billion) based on its then share price. It wanted the Irish company's agreement before making a formal bid and later ruled out making a hostile offer, hoping that the target's shareholders would pressure the board into negotiations.
The takeover proposal was pitched at a 29 percent premium to where Smurfit was valued by the stock market before the talks, adjusting for a dividend that was about to be paid. That's hardly a knockout price. It valued the company at 10 times trailing Ebitda — again, an un-enticing number for a company of Smurfit's stature. DS Smith Plc on Monday agreed to pay 12 times Ebitda for the much less established Europac.
The Irish firm's board was right to sit tight. The share price today is pricing in only a small chance of a deal, yet it's still at 33.08 euros. It's not hard to believe that this stock could, in the near future, get past the 36.90 euros International Paper was dangling. Smurfit has a recent acquisition of its own under its belt that should help.
Sometimes the timing isn't right for M&A. There is some logic to a deal with International Paper, but the aspiring buyer just doesn't have the financial strength right now to be able to pay a full price. Even using a dollop of extra leverage, it was reliant on part-paying in its own stock, which reacted poorly to the idea of buying Smurfit. The shares have rallied recently only as expectations of a deal have faded.
Some Smurfit shareholders may scream that the board should have engaged. If they don't trust the directors to know the true value of the company, then they are welcome to call a meeting to oust them. But that judgment should be reserved until we see where the shares are this time in 2019.