Foreign Purchases of U.K. Firms Have Soared Since Brexit Vote
(Bloomberg) -- Brexit is proving no bar to foreign investors.
Since Britons voted to leave the European Union, overseas companies have completed 475 acquisitions of U.K. firms with a combined value of 174 billion pounds ($232 billion), government figures Tuesday showed. The equivalent period prior to the referendum saw 294 acquisitions worth 110 billion pounds.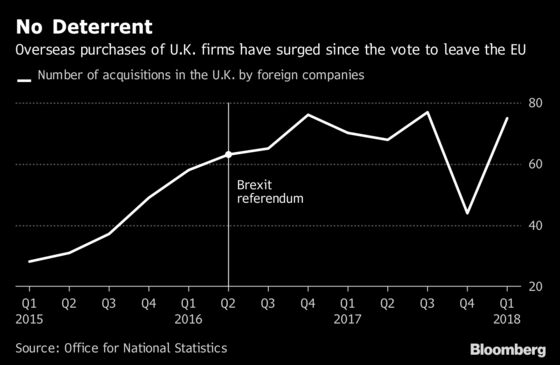 The figures will be welcomed by Brexit supporters, who accuse opponents of "scaremongering" over the possible costs to the economy of leaving the EU.
According to data compiled by Bloomberg, all acquisitions involving British firms have soared to more than $275 billion so far this year, on track for a record high.
Cheap financing and the fall in the pound following the 2016 Brexit vote have fueled demand for British assets among foreign buyers, with U.S. firms spurred to increase spending and risk-taking by the Trump administration's tax reforms.
It remains to be seen whether the trend will continue, as Britain and the EU appear no closer to reaching an agreement. Without one, the U.K. will crash out of the bloc in March next year minus the transition period that is keenly desired by companies.
A pickup in foreign acquisitions in the first quarter partly reflected the impact of a small number of very high-value deals, according to the Office for National Statistics. These included Vantiv Inc.'s 8 billion-pound acquisition of e-commerce payments company Worldpay Group Plc and the 4-billion pound takeover of bookmaker Ladbrokes Coral Group Plc by Isle of Man-based GVC Holdings Plc.