Delaware Beats New Jersey to Single-Game Bet Starting Line
(Bloomberg) -- Delaware became the first U.S. state aside from Nevada to allow wagers on individual professional sporting contests, just three weeks after the U.S. Supreme Court freed states to do so.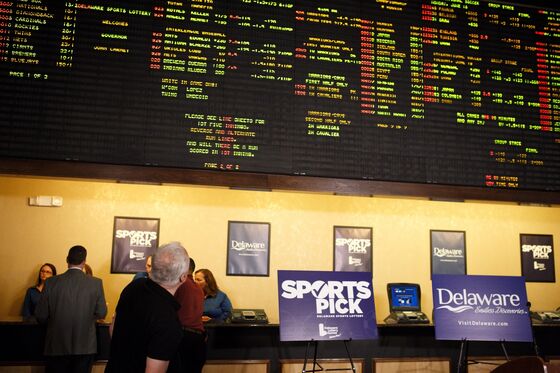 Full-scale sports books opened at 1:30 p.m. Tuesday at Delaware's three casinos, offering single-game bets on football, baseball, basketball, hockey and soccer. The move trumped neighboring New Jersey, whose challenge the court used to strike the prohibition. New Jersey lawmakers are scheduled to vote on new gambling regulations to accommodate single bets later this week.
The inaugural bet was made by Governor John Carney of Delaware, whose state was the first to challenge the federal sports betting ban in 2009. He put down $10 on the Philadelphia Phillies to beat the Chicago Cubs tonight at Wrigley Field. Carney was quickly followed by Stuart Feiner, a professional gambler from Long Island who bet $500 that the Pittsburgh Pirates would defeat the Los Angeles Dodgers.
Feiner said he came to the Dover Downs casino to support legal sports betting. "It removes the bad aura about betting as illegal and will encourage more people to participate," said Feiner, clad in black shorts and a black T-shirt with the words "I will kill your bookie."
Read More: Delaware Casinos, Vendors See Limited Benefits
Carney said the state had no plans to expand wagering outside casinos, adding that "I don't expect" people will be able to bet at convenience stores and gas stations.
Delaware wasn't racing to be the first to offer single bets after the nation's highest court cleared the way on May 14, but had the advantage of having its regulatory system in place, said Rick Geisenberger, Delaware's secretary of finance. One of four states grandfathered into a 1992 federal ban on sports betting, Delaware already operated a sports lottery that allowed bets on multiple games, known as parlays.
"It was more important for us to get it right than to have it first,'' Geisenberger said. The state recently oversaw computer training of casino employees who'll handle the bets.
Under Delaware's gambling scheme, bettors have to place wagers in person at Dover Downs or one of the state's other casinos, Delaware Park outside Wilmington or the Harrington Raceway & Casino, south of Dover.
Geisenberger said state officials are discussing an app that would allow gamblers to make bets over their phones if they are "geo-located,'' meaning physically present, in Delaware. "That means if someone is registered with the casinos, they could place a bet from their car as they drive through the state.''
Being first, though, may not mean much given that nearby states such as New Jersey and Pennsylvania will quickly have their own single-bet systems, said Chris Grove, managing director of sports at the research firm Eilers & Krejcik Gaming.
"It's an interesting historical footnote in a few years, but I don't know that there's a significant first-mover advantage in play here,'' Grove said.
Eilers & Krejcik projects the new wagering will produce about $23 million in annual revenue for the betting sites, more than twice that if online wagering is allowed. Delaware estimates it will collect about $5 million in taxes.
The Delaware Sports Lottery took in about $46 million in legal wagers in fiscal 2017. The state netted a total of $2.2 million that year after oddsmaker William Hill, the state's casinos and its horse-racing industry took their cuts.
The state got its head start on sports betting because it tried to allow parlay wagers on NFL games in 1976, but the experiment failed after a year. Delaware, Nevada, Oregon and Montana were then exempted from the 1992 federal sports betting ban because they had already approved some form of sports betting at the time.
Seventeen years later, Delaware officials sought to revive sports betting to help defray a $778 million budget crunch. Lawmakers set up regulations in 2009 allowing wagers on professional and college sports, except games involving Delaware's colleges and universities. More than $150 billion is bet each year on sports, according to the American Gaming Association.
A Philadelphia-based federal appeals court nixed the wagering plan in 2009, saying Delaware was limited to multi-game bets on NFL games since that's all that was envisioned by the original sports lottery. New Jersey took up the cause in 2012 when then-Governor Chris Christie challenged the constitutionality of the federal sports-betting ban in a lawsuit, which led to the Supreme Court decision.
The only real advantage of being first out of the gate is Delaware will be ready when the NFL kicks into gear with pre-season games starting in August, Grove said. Football draws the most betting among all professional sports in the U.S.
"Being up and running and having some time to work the kinks out by getting an early start will definitely put Delaware in a better position to take full advantage of that extra volume that goes along with the NFL season,'' he said.
But Geisenberger said Delaware will need a flood of new wagers to pump up its current level of profits.
"We may see a bump when it first starts and during this NFL season, but as more states come on line, that very well may flatten,'' he said. "I don't think we'll see some huge windfall from this.''