Real Retreat Puts Brazil Central Bank in Quandary After Auction
(Bloomberg) -- The real's depreciation has thrust Brazil's central bank into one of its toughest tests in months after an attempt to placate the market failed to buoy the currency.
The real pared losses briefly Tuesday after policy makers offered to sell an additional $1.5 billion of swaps contracts, beyond the $750 million they had been auctioning daily. But the recovery faded by late afternoon, with the currency closing at 3.8094 per dollar, the weakest level in more than two years. It begins trading at 8 a.m. in New York.
"While the BCB's intervention signals a willingness to support the currency after its 22 percent drop since the beginning of the year, the timing may have much to do with breaking the fall before it breaches a possible sentiment-busting 4-per-dollar level," said Humberto Garcia, a strategist at Leumi Investment Services in New York.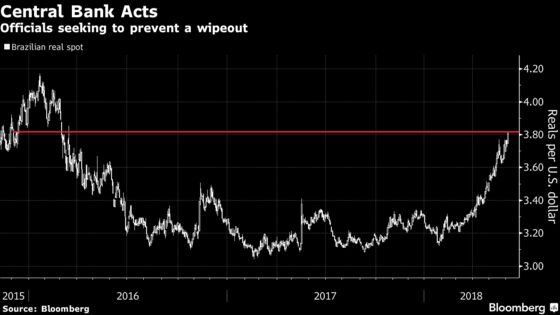 The real has weakened 13 percent since the end of March, the worst performance among 16 major currencies tracked by Bloomberg, amid growing concern that elections in October could usher in a president less attuned to investors and business. Investors' fear that fixes to fiscal problems would be derailed have exacerbated what's already been a lackluster year in emerging markets.
Read More: Brazil Gets No Break as Record Outflows Hit the Country in May
"Any central bank that tries to intervene in their FX market is only inviting speculators to test the bank's will," said James Gulbrandsen, a Rio de Janeiro-based money manager who helps oversee $3.5 billion of assets at NHC Capital. "For the bank, it typically ends in feeling like you're drinking water from a fire hose."
Still, Gulbrandsen said the real is beginning to look attractive at current levels, and if it were to weaken to 4 per dollar he'd "load the boat" buying the currency.
The central bank sold about 22,000 of the 30,000 contracts it offered at two extra auctions. It placed all 15,000 contracts in the day's regularly scheduled sale. The amount that remained unsold isn't enough to worry traders. Hideaki Iha, a trader at Fair Corretora, said policy makers weren't willing to give the investors as high a rate as they were pushing for.
While the swaps don't change the supply of physical dollars in Brazil, they support the real by meeting demand from investors who want to hedge against the risk of the decline in the Brazilian currency. They also boost onshore dollar loan rates, encouraging commercial banks to bring greenbacks into Brazil to profit from the higher rates onshore.
"The central bank got the timing right, coming in to try to curb a speculative move," said Italo Abucater, the head of foreign-exchange trading at Tullett Prebon Brasil in Sao Paulo.