Nektar's 42% Plunge Gives It a Record That No Company Wants
(Bloomberg) -- Nektar Therapeutics had the worst day in over five years for an S&P 500 Index member.
The biopharmaceutical firm lost 41.8 percent of its value on Monday after response rates in melanoma and kidney cancer patients decreased in a mid-stage trial of the company's cancer drug in combination with Bristol-Myers Squibb Co.'s Opdivo. That's the biggest one-day loss by an S&P 500 Index constituent in more than five years, according to data compiled by Bloomberg.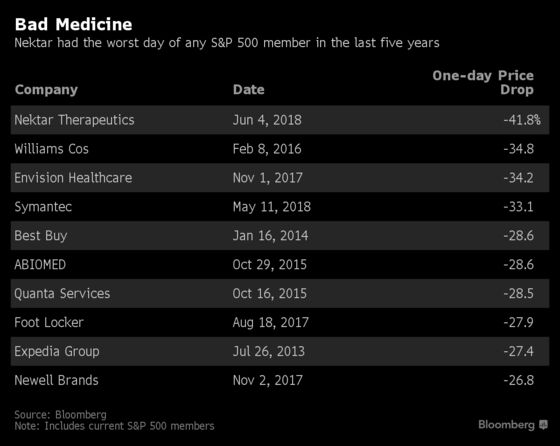 San Francisco-based Nektar's plunge shattered the previous record for the period. Williams Cos., an energy infrastructure company, fell by 34.8 percent in a single day in 2016.