Nektar's 40% Plunge Is Compounded By Risky Cancer-Drug Bet
(Bloomberg Opinion) -- Don't say I didn't warn you.
Shares of Nektar Therapeutics Inc. plunged some 40 percent Monday morning after a disappointing weekend data update on a combination trial of its lead medicine with Bristol-Myers Squibb & Co.'s immune-boosting cancer drug Opdivo. This is just the latest in a series of roadbumps for such combo cancer treatments, which, as I have pointed out, offer as much risk and uncertainty at this stage as they do promise.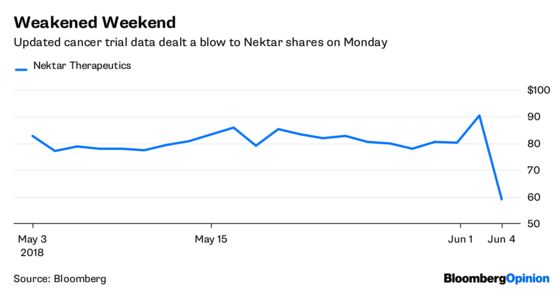 It makes sense that drugmakers are pushing hard on cancer combos: they have enormous potential to boost drugs like Opdivo that are already blockbusters. The issue is that risky decision making is being normalized.  
In the case of Nektar and Bristol, where caution might be warranted after such a setback, the two companies are instead moving full-steam ahead into bigger-final stage trials. The problem is, their choice to move forward is based on tiny amounts of difficult-to-interpret data.
It's true that the combo's initial results appeared to be effective for a solid majority of the patients who took it. But it was a small sample size. As more have been added, fewer have responded, which is what prompted Monday's share-price slide. Nektar says that responses for newer patients should improve with time. That could be the case. But it's also possible that the initial amazing data was flukey, the product of luck and a miniscule sample size. 
This initial study is a so-called single-arm trial. The combo isn't being compared to anything, which makes it impossible to tell for sure if Nektar's drug adds anything to Opdivo. A randomized controlled mid-stage trial could truly validate the combo, and provide valuable information on what patients are most likely to benefit before starting big and expensive final-stage trials. 
Such an approach would have saved Incyte Corp. a lot of trouble. That company leapt into an array of final-stage combo trials of its drug epacadostat based on excellent early single-arm data. The first of those trials was a complete flop. Instead of improving on Incyte's decision making process, Bristol and Nektar seem to be adopting it.
In some ways, the choice is understandable.The initial data is tantalizing, and the combo may work in patients that medicines like Opdivo have a hard time helping on their own. If Nektar's drug can expand Opdivo's reach, it could have a significant impact on the medicine's growth trajectory. 
Bristol needs a win. Competitor Merck & Co.'s Keytruda should pass Opdivo as the market leader this year as it seizes control of the all-important lung cancer market. Opdivo is expected to account for 30 percent of Bristol's 2020 revenue, so the drug's success is key.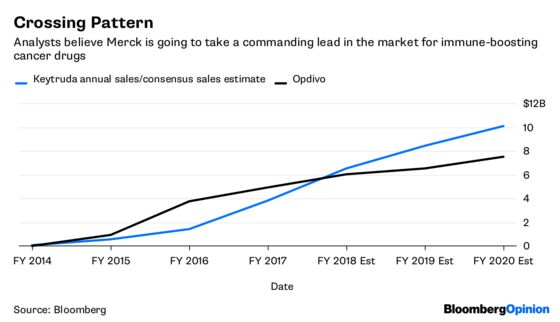 Pausing to run a controlled mid-stage trial would give competitors time to develop copycats, potentially reducing Bristol's upside. In that context, a calculated gamble makes some sense. But using tiny data sets and competitive pressure to justify risky decisions is a slippery slope in a research area that is still in its infancy. With many hundreds of combo trials in progress involving dozens of drugmakers, it's one that Bristol isn't alone in sliding down.