Japan Finance Minister to Take Pay Cut Over Document Scandal
(Bloomberg) -- Japanese Finance Minister Taro Aso will take a pay cut to take responsibility for officials under him who altered documents on a cut-price land sale to a school with links to Prime Minister Shinzo Abe and his wife Akie.
Aso, 77, who is also deputy prime minister, said he wasn't considering resigning. He's the highest ranking official to be punished over the scandal, which has dragged on for 16 months, harming the government's popularity and throwing the legislative calendar into disarray.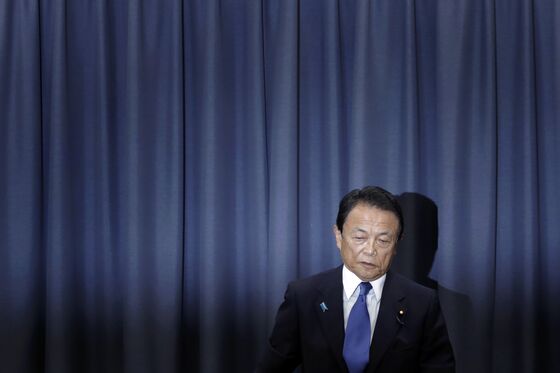 He said a probe by his own ministry showed that neither he nor Akie Abe had any connection with the altering of the documents. Aso will voluntarily forgo the ministerial component of his annual pay, costing him about 1.7 million yen ($15,500). The fine doesn't add up to much financially for Aso but it does have symbolic significance.
"It indicates the seriousness with which Aso and by extension the Abe administration is making a show of taking the MOF transgressions." said Musashino University Institute for Global Affairs' Jun Okumura, commenting on the punishment.
Okumura added that the Abe administration would be looking to put the scandal behind it and make a renewed push on its legislative agenda.
"The altering of public documents is unacceptable. I feel a deep responsibility for that as head of the government," Abe told reporters in Tokyo. "I want Deputy Prime Minister Aso to lead from the front in fulfilling his responsibility."
The school operator was known for its nationalist leanings and ran a kindergarten in Osaka that espoused elements of the prewar curriculum.
The scandal has already brought the resignation of tax chief Nobuhisa Sagawa, who stepped down in March. He said in parliament afterward that no one from Abe's office ordered the falsification of the documents. Sagawa was retroactively suspended without pay for three months, a punishment that will reduce his retirement payout of just under 50 million yen by 5.1 million yen.
Sagawa was in charge of the finance ministry bureau that directly oversaw the sale of public land to Moritomo Gakuen for a fraction of the cost of comparable plots. It later emerged that the ministry had doctored documents related to the transaction to remove the names of the prime minister, his wife and Aso.
The opposition and some members of Abe's own party have called for Aso to step down over his ministry's handling of the documents and sexual harassment allegations that forced the resignation of the ministry's top bureaucrat.
In a JNN poll released Monday, 54 percent of respondents said that Aso should resign over the scandals.
It's unclear whether the punishments will put the issue of the land sale and altered documents to rest and enable the Abe government to move forward with its agenda. Aso himself has brought the problems back to the front pages through tactless comments before.