BlackRock, Jefferies Press Pause on Dollar as Europe Rebounds
(Bloomberg) -- Europe's stabilizing economic landscape is set to put an end to the dollar's best run in more than three years.
That's the view of BlackRock Inc. and Jefferies, who say that firming European growth could cap the greenback's rise. The dollar has climbed for seven straight weeks amid rising U.S. yields, political turmoil in Italy and a series of disappointing data releases from Europe, which has the region's Citi Economic Surprise Index near a seven-year low.
However, robust retail sales from Germany last week suggest that dynamic could reverse soon, according to BlackRock's Rupert Harrison. The figures increased by 2.3 percent on a month-over-month basis in April, rebounding from a 0.4 percent slump the month before. Given that investors have already priced in healthy U.S. fundamentals, a recovery in European data could weigh down the dollar, Harrison said.
"The concept that the U.S. economy is very, very strong is very widely accepted in markets," said Harrison, BlackRock's chief macro strategist, in a Bloomberg TV interview Monday. "If you start to see some suggestion that the very dramatic European slowdown from Q1 is bottoming and coming back a bit, then I think you could start to see other currencies perform better against the dollar from here in the very short term."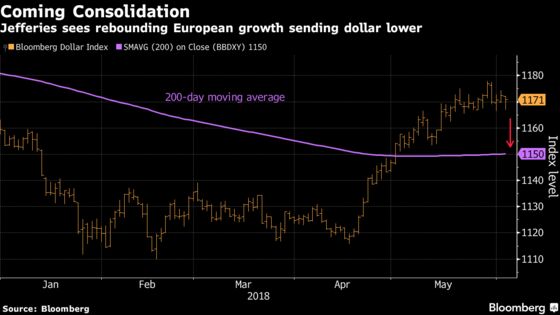 The common currency has slipped more than 5.5 percent against the greenback over the past six weeks as U.S. yields climbed and investors pared short dollar wagers, which reached a five-year high in April. The euro-dollar pair crumbled to 1.1510 last week -- the lowest level since July 2017 -- as a political crisis engulfed Italy, roiling European assets.
However, with Italy's populist parties settling on a government team and European inflation firming, the common currency has likely bottomed, according to Brad Bechtel, global head of FX at Jefferies. The Bloomberg Dollar Spot Index may consolidate near its 200-day moving average over the next few weeks as risk sentiment recovers across markets and the greenback follows the U.S. yield curve lower, Bechtel said.
"With political noise stabilizing in Europe, the curve in the U.S. flattening again, the 'mood' in markets constructive again and data in Europe stabilizing as well, the dollar may have topped out temporarily," Bechtel wrote in a note Monday.