'Solo' Box-Office Crash Could Hand Disney First `Star Wars' Loss
(Bloomberg) -- Box-office receipts for "Solo: A Star Wars Story" sank 65 percent from the film's debut weekend, setting it on course to be the first-ever "Star Wars" movie to lose money.
Walt Disney Co.'s Han Solo origin story collected $29.3 million in theaters in the U.S. and Canada over the weekend just ended, ComScore Inc. estimated in an email Sunday. That was below the $30 million projected by the research site Box Office Mojo and a steeper decline than other big Memorial Day releases historically.
The film, which cost an estimated $250 million to make, could lose more than $50 million, Barton Crockett, an analyst with B. Riley FBR Inc., said in a research note Sunday.
"This marks a tough return to movie reality for a Disney that had in recent years enjoyed a can't-miss mystique," Crockett wrote.
Crockett projected worldwide ticket sales for the movie's full run would be in the mid-$400 million range, while other recent "Star Wars" films have taken in $1 billion or more. Movie budgets don't include the cost of marketing the film, and studios split the box office receipts with theaters.
Disney did not immediately respond to a request for comment Sunday evening.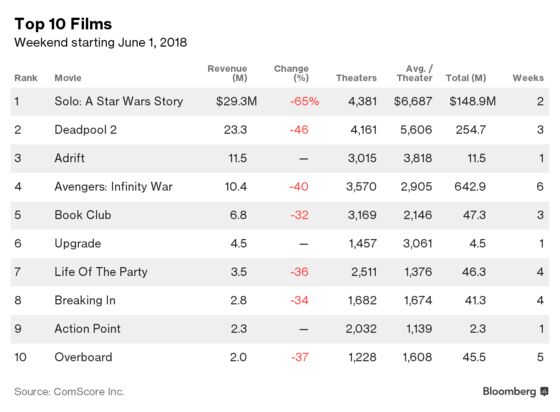 Three new movies -- "Adrift," "Upgrade," and "Action Point"-- placed third, sixth and ninth, respectively. STX Entertainment's "Adrift" collected $11.5 million against a forecast of $13 million and budget of $35 million. Shailene Woodley and Sam Claflin play a couple who sail from Tahiti to San Diego and hit a catastrophic hurricane. The survival tale is based on a true story and scored 67 percent positive reviews, according to aggregator Rotten Tomatoes.
R-rated "Upgrade," which scored almost universal positive reviews, collected $4.46 million, beating a forecast of $2.8 million by Box Office Pro. The violent tale via Blumhouse Productions' label BH Tilt, is about a billionaire inventor paralyzed in a mugging, who tries an experimental cure to fix his body.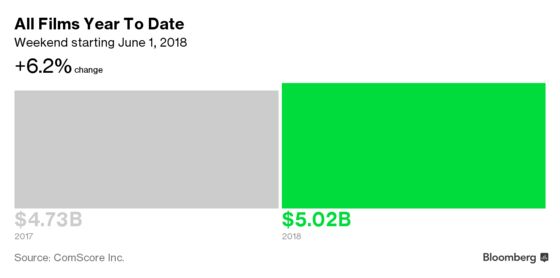 Daredevil Johnny Knoxville returns in the critically panned "Action Point," via Paramount Pictures, which earned $2.32 million -- about half the predicted $5.5 million. In the $19 million production, the "Jackass" star is the owner of an out-of-control amusement park where the rides are designed with minimum safety and maximum pain.