Erdogan Joins Fight Against Uber, Saying Turkey Business Is Over
(Bloomberg) -- Uber Technologies Inc., which has been the subject of legal and physical battles with Turkish cab drivers, is coming under fire from the country's president.
Speaking at a Ramadan dinner on Friday in Istanbul, President Recep Tayyip Erdogan said the ride-hailing company's business is "over" in Turkey and that authorities would take necessary action against the firm.
"There is no such thing anymore. We have our own cab system," Erdogan said. "They say Europe has it, who cares? We will decide on this ourselves. Our interior ministry gave the orders. Traffic police will tackle this situation and do what is necessary."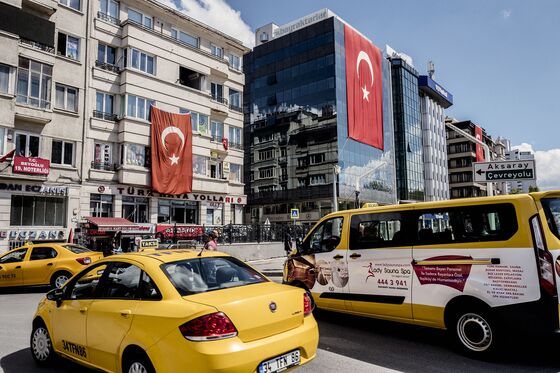 Uber started offering services in Istanbul's $1.5 billion taxi market in 2014, taking on the more than 18,000 local yellow cabs in the city of 17 million people. The San Francisco-based operator has faced mounting protests from yellow-cab drivers, who lost market share as they struggled to maintain their cars and the quality of services with some of the lowest fares in the world.
The company operates under a so-called D-2 license, which is much cheaper than taxi plates. Uber drivers pay 3,550 liras annually, while taxi license plates cost about 1.68 million liras ($360,000) each, according to Kale Ticaret, which sells them. Providing a service alternative to taxis through D-2 licenses is "not possible" as per regulations, Erdogan said.
Taxi drivers welcomed the president's comments. About 100 yellow cabs drove in convoy to Erdogan's house in Kisikli to show their support to the president, state-run Anadolu Agency reported on Saturday. A court hearing against Uber will be held in Istanbul on Monday.
Uber is still operating as normal in Istanbul, according to 56-year-old Bekir Cambaz, who owns more than 60 Uber cars.
"I think this was an election pledge," he said. "I don't think and I really hope that Uber will not be actually banned in this country."
Uber didn't immediately respond to requests for comment.