Wall Street Eyes Trump's Early Jobs Tweet and Thinks `Whoa'
(Bloomberg) -- Friday might have been all about the U.S. jobs report. Then Donald Trump tweeted.
The president's 7:21 a.m. tweet suggested the 8:30 a.m. employment data would bring good news, grabbing attention across Wall Street.
While markets didn't go nuts on Trump's tip -- though banks and Treasury yields rose -- investors, traders and economists are still assessing the broader implications for future releases. The next one's little more than a month away.
Here's what the Street's saying about how the tweet upended the start of the day: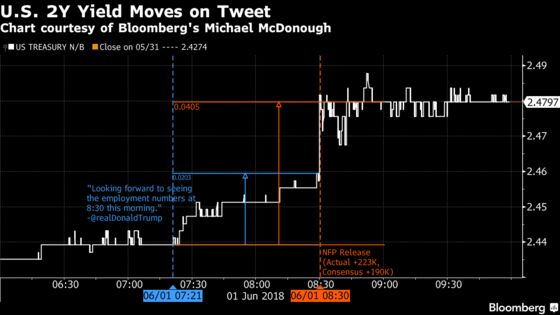 TD Securities (Gennadiy Goldberg, senior U.S. rates strategist)
"My handy-dandy Trump tweet tracker popped up, and I thought, 'Whoa.'" Next, Goldberg went to the traders on the floor, to "just kind of warn them about this."
"We always watch Trump tweets, this just gives them a little more credence, a little more heft," he said. Goldberg notes there's always talk about whisper numbers, but "this is the only whisper that matters. Hopefully he doesn't do this every month."
Goldberg said it would be hard to know how to trade a Trump tweet because, even if the tweet is positive, the president might be talking about headline numbers, while markets might fixate on wage data.
Invesco (Kristina Hooper, chief global market strategist)
"This could result in even greater volatility. Even doing this once may set a precedent and markets will expect that on the first Friday of every month, the president will tweet in advance of the jobs report. And they may scrutinize his language the same way they scrutinize the FOMC statement. What's more, if he doesn't tweet, markets may assume it is because the jobs report is lackluster or worse."
Ameriprise Financial (David Joy, chief market strategist)
"This president is using social media unlike any other and I think the marketplace is somewhat discriminating in terms of what it responds to and what it doesn't."
"A tweet like this this morning, not much of an implication, I wouldn't think. I saw it and I ignored it. Whether that's right or wrong, but I did see it, did read it, and maybe that's the larger message, you do have to pay attention to what the president says, whether it's verbally or in a tweet."
Berenberg Capital Markets (Mickey Levy, chief economist)
"The markets are always trying to get an edge," and looking at rumors and speculation. At the same time, "if you were an investor and you responded to every one of his tweets" -- including those on trade and tax policy -- "you probably would have lost money."
"The best thing to do is to wait and see the number and size things up."
Levy says that "it's inappropriate for any public official to be inferring anything about these numbers," and says Trump "isn't the first high-level official to infer things about the number." The Bureau of Labor Statistics, he says, "is a rigorous, upstanding institution. They play it straight," and the institution's "credibility is so important."
Next month, "will people remember Trump tweeted? Yes."
MUFG (Chris Rupkey, chief financial economist)
"It's pretty obvious the president knew the number in advance, that it was a good one, otherwise why tweet about it?"
"Our bond desk knew this was a gigantic heads up, but there are so many headlines and stories and themes we are following, Spain, Italy, trade sanctions, Nafta, that the president's tweet didn't set off a firestorm of trading activity. It was really more like, 'Oh, no, what's this?'"
Rupkey notes that 10-year Treasury yields were 2.885% at 7:21am before the tweet, and moved up a basis point to 2.895%; that's "not much for the special prosecutor to investigate."
Horizon Investments (Greg Valliere, chief global strategist)
"This is highly unusual, unprecedented." Trump "obviously knew it would be a good number. This could get an ordinary person in legal trouble, but we're talking about Trump -- he breaks all the rules."
Valliere says it's unlikely "that there will be a reprimand or any kind of official reaction; the issue will fade within a day or two, but next month's report will get more attention than usual."
Compass Point (Isaac Boltansky, analyst)
"Hard to tell if this was a singular event or the beginning of a new trend, but I think this could ultimately prove to be another example of a once-unthinkable break from protocol becoming another pedestrian part of the new reality. The march of headlines will continue."
Bloomberg Economics (Carl Riccadonna, chief U.S. economist)
"Based on the reaction in the Treasury market, the tweet appeared to influence positioning ahead of the release of the report. Traders will be paying careful attention to the president's twitter feed ahead of future releases."
JonesTrading (Dave Lutz, head of ETF trading, macro strategist)
"First thought was whoa, he wouldn't have done that unless it was going to be a favorable print. Given how POTUS gets the report the day before, we saw hawkish positioning immediately, where they were selling Treasuries and Fed Funds Futures."
"Traders will certainly be focused on his comments and tweets going forward, ahead of major economic releases. If he does NOT tweet on the jobs number, it will be interpreted he knows a weak report coming."
JAT Capital Management (John A. Thaler, founder)
Trump's intention behind the tweet was probably "to cause more American people to be aware of the number." Thaler notes that "everyone" who follows CNN's Jim Acosta and Business Insider's Henry Blodget "was aware of the jobs number. What an effective thing that is to do."
At the same time, "Am I going to buy the market off a tweet? That would be a dangerous thing to do."