Why Buy a Car When You Can Subscribe in Style?
(Bloomberg Opinion) -- Venture capital investor and longtime technology observer Mary Meeker has published her annual Internet Trends presentation — 294 slides this year, including a section on transportation. There's a useful finding on slide 128: What Americans spend on purchasing vehicles has dropped since the 1970s, while spending on "other transportation," including public transport and ride hailing, has nearly doubled.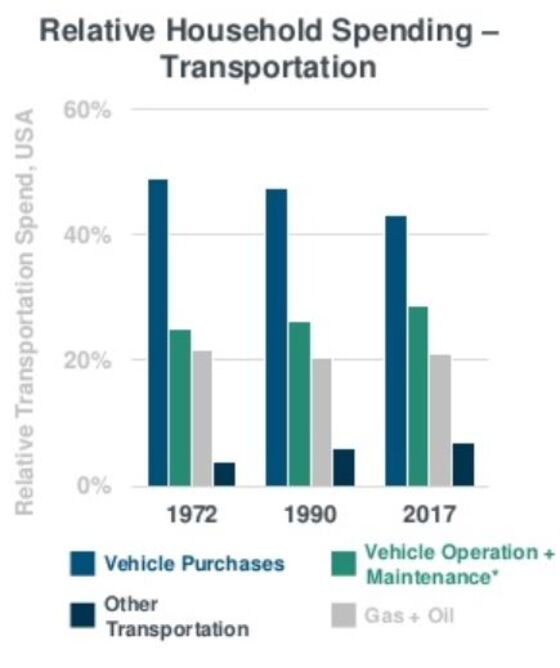 Bloomberg New Energy Finance research published this week suggests that "other transportation" will continue to grow as a share of U.S. transportation spending. Today in the U.S., the average monthly costs of owning, leasing, sharing or subscribing to an automobile service are similar.
In a sense, any form of using a car is a service — the service of moving someone around without expending one's own energy —  but subscriptions, which allow drivers to pay a monthly fee to access a selection of vehicles, go furthest in removing the usual encumbrances of buying or leasing by providing insurance, maintenance and roadside assistance. There's quite a bit of range in price for subscription services. Ford's Canvas service starts at $329 a month; the Porsche Passport service starts at $2,000 a month for access to many different models. Both services meet the same need but in different style. Owning a car can be a small or large part of one's identity; so can the way one subscribes and what they subscribe to.
And it's not just about personal cars. As Meeker notes, people took more than 7 billion on-demand trips in hailed cars and on bicycles in the first quarter of 2018. China's on-demand transport, which makes up more than two-thirds of the global market, grew 96 percent year-on-year.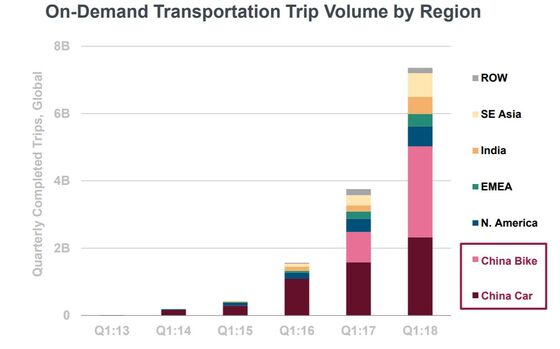 Tech mogul Jia Yueting, whose empire includes U.S.-based electric-car startup Faraday Future, has been banned from air and train travel in China due to his companies' mounting debts.

New data show people all over the globe

don't understand basic concepts

of investment and inflation.

A visual history of light captures the "

relationship between people and photons

that changed the course of mankind."

Software developer Coord's public-transit routing algorithms for New York City and Washington now include

shared bicycle options

.

From Los Angeles,

a hard-boiled plea

to preserve and expand shared electric scooter service.

Alphabet Inc.'s Waymo unit is

expanding its fleet of self-driving minivans

by 62,000.

SoftBank Group Corp.'s

$2.25 billion investment in General Motors Co.'s autonomous-driving operation

makes a messy race for self-driving dominance even messier.

The Bloomberg Aspen Initiative on Cities and Autonomous Vehicles has

developed four possible futures

for what autonomous vehicles could mean for urban life

.

Tim Harford says

cheap innovations

,

including machine learning, are often better than magical ones.

Economic development and infrastructure are the

top two issues for U.S. mayors

, according to an analysis of their speeches. Energy and environment is eighth.

A new ranking of cities in the running to host Amazon.com Inc.'s second headquarters puts

Raleigh, North Carolina

,

at No. 1.

Rains in the northeastern United States are

becoming more intense

, and the region's future will be flooded.