Ram's Small Truck Revival Completes Detroit's U-Turn on Segment
(Bloomberg) -- Fiat Chrysler Automobiles NV's Ram is plotting a small pickup revival, returning to a segment where Detroit brands were almost completely absent just a few years ago.
The truck will take on General Motors Co.'s Chevrolet Colorado and Ford Motor Co.'s Ranger and be sold globally with both Ram and Fiat badges, Mike Manley, the head of the Ram and Jeep brands, told investors Friday during a five-year plan presentation outside Turin, Italy. He didn't give specifics on when the pickup will go on sale.
Fiat Chrysler stopped making its mid-size model, the Dakota, in 2011, the same year Ford pulled the plug on its Ranger for the U.S. market. GM never called off the Chevrolet Colorado or GMC Canyon, but a significant revamp of the pickups cost the company all but a few thousand sales in 2013.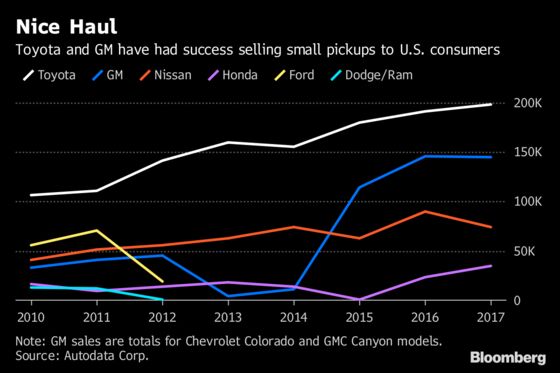 Ford is bringing back the Ranger -- the truck debuted at the Detroit auto show in January but won't start selling until 2019 -- and Ram is returning to the segment because GM and Toyota Motor Corp. have proved there are plenty of U.S. buyers to go after. There's also a big market for small pickups in Southeast Asia.
"It will be offered in North America, but what's important is that it's a global pickup, and that's what's going to enable the product," said Stephanie Brinley, an analyst with researcher IHS Markit who attended Fiat Chrysler's briefing. "If it were simply for North America, it's not likely it would be developed."