Marchionne Concedes Selling Fiats a Fool's Errand in Era of SUV
(Bloomberg) -- Fiat Chrysler Automobiles NV boss Sergio Marchionne isn't ready to scrap cute little Italian cars from U.S. showrooms, but he's not counting on them starting to sell well either.
Discussing ways to do real volume with the Fiat brand in North America "will be a waste of time," Marchionne said Friday near Turin, Italy, during an hours-long briefing about the company's five-year plan. The comment coincided with Fiat Chrysler reporting another rough month for the diminutive 500 subcompact and its stablemates in the U.S.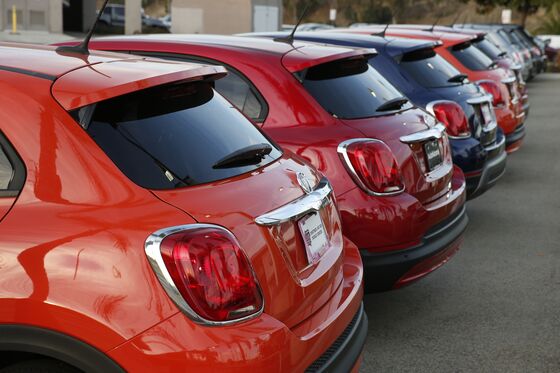 The Fiat brand's U.S. sales plummeted 46 percent in May and have fallen short of 1,500 cars every month this year except March. By comparison, dealers sold about 1,600 rugged Jeep Wrangler SUVs every two days last month.
"I don't see a light at the end of the tunnel for Fiat," said David Kelleher, a Philadelphia-area dealer who sells Jeep, Ram, Dodge and Chrysler vehicles. It may be prudent for Fiat Chrysler to "move on" from trying to sell the brand in the U.S. market, he said.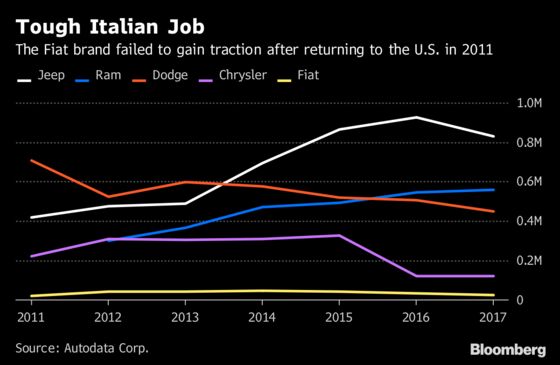 Marchionne ended Fiat's 27-year hiatus in the U.S. with the introduction of the 500 in 2011, a more fuel-efficient version of the iconic Italian model that he hoped could capture a niche of city dwellers looking for stylish, affordable cars that fit into tight parking spaces. That bet never panned out -- the brand reached an annual peak of a little more than 46,000 sold in 2014. The Ram line of trucks and vans did more volume just last month.
"When you look at this climate that's been so beneficial to Jeep and Ram, it's really been very inhospitable for Fiat and everything they're bringing to the table," said Jeremy Acevedo, an analyst with car-shopping researcher Edmunds.
Under the company's new five-year plan, Fiat and Chrysler won't aspire to be global brands, and they will account for just 20 percent of profits by 2022. Asked if the company should change its name to reflect the brand hierarchy, Marchionne scoffed: "It is an established name now. Why don't they ask Volkswagen to change its name after the diesel issue?"